PTZOptics PTZ Camera Control
Rocosoft offers Complete solutions to connect and control PTZOptics Robotic PTZ cameras.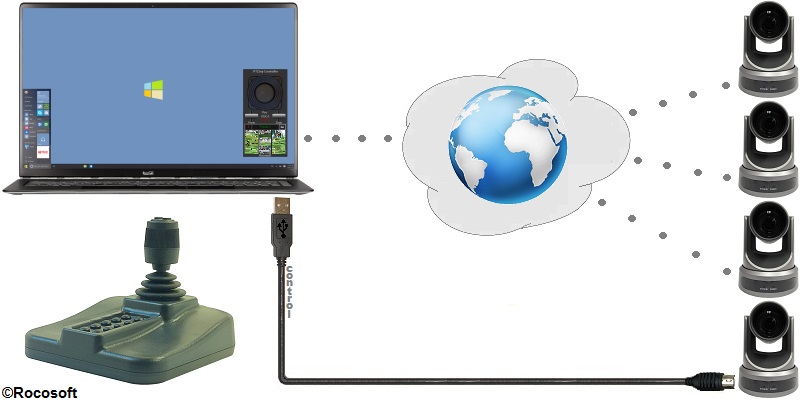 Rocosoft PTZ Controller software allows you build a Professional PTZ Camera Control System by using any wired or wireless professional or gaming USB Joystick.
Rocosoft PTZ Camera Controller Software offers complete PTZ camera management with local and far-end control of PTZOptics PTZ cameras from any computer, tablet, TriCaster, vMix, Livestream, Wirecast, and other Live Production Systems. Designed to be used with the industry's top live streaming solutions and professional robotic cameras, this software unveils the true possibilities for PTZOptics camera management.
Our Innovative PTZPad™ Visual Control Panel allows users to create a custom graphic user interface with a visual layout of camera presets on a live video or static image background.
The PTZJoy™ Controller Software is compatible with all PTZOptics IP cameras connected to a LAN, WAN,and Wi-Fi network as well as the cameras that connect to a computer via serial RS-232, RS-422, RS-485 or USB ports. That includes PTZOptics: 12X-IP, 12X-USB, 20X-IP, 20X-USB, 12X-SDI-G2, 12X-USB-G2, 20X-SDI-G2, 20X-USB-G2 and all Newer PTZOptics IP cameras.
Rocosoft Extendable Control Cables allow PTZOptics Cameras to be located far away from a computer. Our USB to Serial RS-232 VISCA Extendable Control Cable can be extended up to 1000 ft with a standard CAT5-6 network cable. Our USB to Serial RS-485 Control Cable will give you 3000 ft extension with a standard network cable.
Not to say that our software is universal and will give you control of all other Broadcasting PTZ cameras from the same interface. Mix or match. So, no matter what type of Broadcasting PTZ camera you decide to use for your configuration, we have you covered.
Showing all 4 results