TriCaster PTZ Camera Joystick Control
TriCaster PTZ Camera Control Solutions
Rocosoft offers software and hardware solutions to connect and control VISCA and IP PTZ cameras from a Newtek Tricaster live-production system. Our PTZ Joystick Control Software and control, video, power extendable cables allow you to build your own professional PTZ Camera Control System at a fraction of the cost of other options out there, but with superior quality, unparalleled functionality, and simplicity.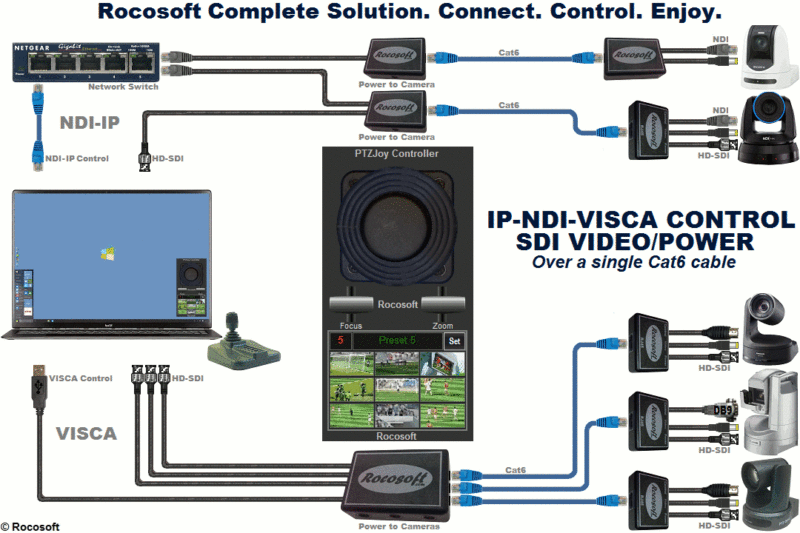 CONNECT
Our sets are a simple way to connect remote PTZ Cameras to a Newtek TriCaster live-production system. We specialize in extending HD-SDI, component and composite video, VISCA control, and power signals over standard CAT network cables for single and multiple camera configurations. Whether your setup is simple or complex, we take the guess work out of it – no need for converters, USB adapters, or separate cable runs – all you need is one of our convenient cable sets. Shop all PTZ Gear.
CONTROL
Rocosoft PTZJoy Controller – TriCaster PTZ Camera Joystick Control Software is a professional PTZ camera management software that integrates directly onto a Newtek TriCaster system and adds advanced PTZ controls, powerful preset tools, and camera automation technology to your live-production system.
Our software adds professional PTZ control options and camera management tools than are significantly more extensive than those offered by TriCaster's internal PTZ control. In addition, our software allows you to connect any wired or wireless professional or gaming USB joystick to the TriCaster system and use it to control connected PTZ cameras instead of having to use NewTek's dedicated control panel, or along with it.
The PTZJoy software will work with all IP and Serial Port  robotic PTZ cameras, so no matter what type of PTZ camera you decide to use for your live-production or broadcast, we have you covered.
ENJOY
Together or separate, our software and hardware solutions make it easy to PTZ.
Need help with your setup? Not sure what you need to get up and running? Let our solutions experts help! Contact us today.
Showing all 4 results