Rocosoft PTZ Camera Control Software 
VISCA | Canon | Pelco | CGI | VISCA over IP Protocols
Turn your computer, tablet, or Live Production system into an advanced camera control station. 
Rocosoft PTZJoy™ PTZ Camera Control Software is a complete multi-camera management solution for local and far-end control of professional broadcasting cameras from any computer, tablet, vMix, Livestream, Wirecast and all other Live Production systems. Designed to be used with the industry's top live streaming solutions and professional robotic cameras, this software unveils the true possibilities for robotic camera management.
Our software is a virtual joystick remote control panel that replaces a bulky and ineffective hardware controller, as PTZJoy can do everything that a hardware controller can plus provides a lot of extra features and advanced functionality that is simply not available with any other hardware or software controller on the market.
The software supports all PTZ cameras that connect to the Serial Port of a computer via serial RS-232, RS-422, or USB ports, or are connected to your IP network via a LAN, Wi-Fi, or WAN connection. That includes Sony, Panasonic, Canon, Pelco, PTZOptics, HuddlecamHD, Vaddio, Lumens, Datavideo, Hitachi, Bolin, Marshall, and other Serial Port and IP PTZ Cameras. Visit our Supported Hardware page for a comprehensive list of supported cameras.
Key Features
Serial Port and IP Camera Control Software
Sony, Canon, Pelco, Panasonic, PTZOptics, and Datavideo CGI and VISCA over IP Protocol Support
Precise Pan/Tilt/Zoom/Focus/Iris Control
Control up to 36 Serial and IP Cameras from one computer
Convenient plug and play COM port setup
Supports any wired or wireless USB Joystick
Convenient virtual controls and keyboard shortcuts
Stores more that 500 internal and external presets per camera
Preset recall with instant Cut or Fade - Variable speed between presets
Up to 12 Visualets™—Visual Preset Tiles
Stores up to 90 user profiles
Direct preset recall panel for one-click recall of most used presets on specific cameras
Far-end camera control from any device
Advanced video settings and adjustments
PTZPad™ Visual Control Panel
Scheduling tools for camera automation
Camera trajectory recording and playback
The most comprehensive camera control solution on the market
Precise Camera Control Using Any Joystick
Ditch the expensive joystick control surfaces! Turn any wired USB joystick, wireless Bluetooth joystick, or gaming joystick into a professional PTZ Camera Controller.
Three joystick performance modes available:

X-Joystick-panning on X axis only
Slow mode-limit top joystick speed
Soft mode-gradual joystick speed acceleration

Custom Button Mapping for USB Joysticks with up to 30 Buttons
Far-End PTZ Camera Control from any Mobile Device
Control cameras from from ANYWHERE and from ANY computer or mobile device
Works with iPhones, iPads, Android phones and tablets, Windows phones and tablets, Google phones and tablets, Mac computers, PCs, and all other devices with a web browser.
Supports all web browsers such as Internet Explorer, Google Chrome, Safari, etc.
Powerful Preset Management Tools
Greatly simplify the logistics of preset switching 
Save and recall up to 510 internal and external presets per camera 
Preset recall with instant Cut or gradual Fade
Visual Preset and Camera View Tiles for fast camera switching and preset recall
Direct preset recall panel 
Store up to 90 camera and preset profiles
Rocosoft Preset Visualizer™ - A Whole New Level of Control
Create a custom graphic user interface with a visual layout of camera presets on a live video or static image background. This tool makes it so easy to see where your presets are and allows you to quickly jump to the preset you want with the click of a button.

Totally customizable, users can set seat positions, camera positions, add pictures to represent people, add custom room layouts, and designate presets to specific locations in the room.
See Rocosoft Preset Visualizer™ to learn more. 
Camera Control Tools and Video Settings
Easily control the camera's various video and control settings.
Auto Pan- Pan camera left and right at a specified speed
Preset Scan- Scan between presets at a specified time interval
Video Settings- PTZ flip, Mirror Image
Exposure Settings- Auto, Iris, Shutter, Gain
White Balance Settings- Auto, Indoor Mode, Outdoor Mode
Back Light Adjustment
Camera ON/OFF
Tally Light ON/OFF
Image Snipping Tool
OSD menu access
Powerful Camera Automation Tools
Studio level camera automation tools greatly simplify camera management allowing for a seamless production
The Task Scheduler tool is for creating playlists for predetermined control of PTZ camera(s) at specific
time. Great for creating daily schedules for cameras.
The Group Task Manager sends commands to multiple cameras simultaneously and is for executing playlists with complex multi-camera movements that can be saved, recalled, and looped.
Broadcast commands to multiple cameras.
The Camera Tracer memorizes the trajectory of camera movements that can be saved, recalled, and looped.
Full Touch Screen Device Support
Turn any touch screen computer or tablet into a PTZ camera controller that is convenient, portable, and powerful. 
The Virtual on-screen Joystick and directional control buttons offer smooth camera movements.
The Visual Preset Tiles can be moved, clicked, and configured with ease.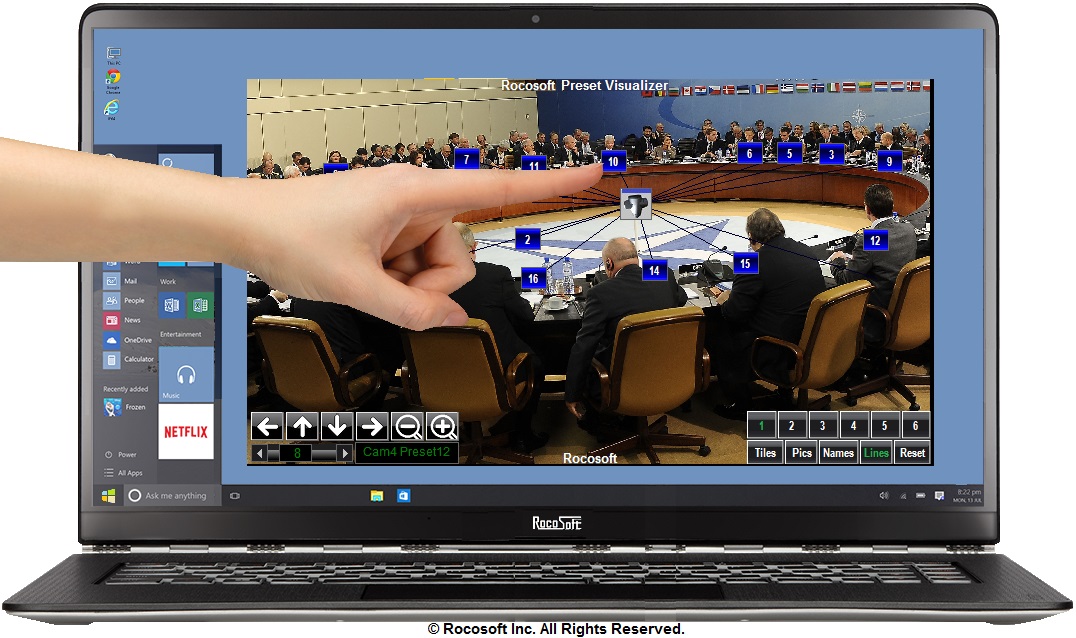 Three Editions of our PTZJoy Camera Control Software
Choose the one that's right for you
PTZJoy
Interface
How it looks on the screen
Features
Control with any USB Joystick
Configure USB Joystick buttons
Set/recall 16 Internal/External presets
On-Screen-Display access
Control speed of Preset Recall
Remote control with Web Remote
And more
PTZJoy Pro
Interface
How it looks on the screen
Features
All PTZJoy features
Connect up to 4 USB Joysticks
Set/Recall 255 Internal and 32 External Presets
Automatically pan left/right with AutoPan
Loop through presets with PresetScan
Manage iris, shutter speed, exposure, etc.
Schedule tasks with Task Scheduler