Rocosoft Joystick Control Software for TriCaster
Rocosoft offers a complete solution to connect and control  PTZ cameras from a Newtek Tricaster live-production system. Build your own professional PTZ Camera Control System at a fraction of the cost of other options out there, but with superior quality, unparalleled functionality, and simplicity.
CONNECT
Our Extendable Control Cables offer a simple way to connect remote PTZ cameras to your TriCaster, vMix, or other live-production system. We specialize in extending HD-SDI, component and composite video, VISCA and VISCA-over-IP control, and power signals over standard CAT network cables for single and multiple camera configurations. Whether your setup is simple or complex, we take the guess work out of it – no need for converters, USB adapters, or separate cable runs – all you need is one of our convenient cable sets. Shop PTZ Gear. 
CONTROL
The Rocosoft PTZJoy™ Controller Software is a professional PTZ camera management software that integrates onto a Newtek TriCaster system and adds advanced PTZ controls, powerful preset tools, and camera automation technology to your live-production system.
Our software allows you to connect any wired or wireless professional or gaming USB joystick to the TriCaster system and use it to control connected PTZ cameras instead of having to use NewTek's dedicated control panel. PTZJoy™ Controller adds professional PTZ control options and camera management tools that are significantly more extensive than those offered by TriCaster's internal PTZ control. 
The PTZJoy Controller works with all IP and all Serial Port Broadcasting PTZ cameras so, no matter what type of PTZ camera you decide to use for your live-production or broadcast, we have you covered. 
Please visit our Supported Hardware page for a comprehensive list of supported PTZ cameras manufacturers and models.
Meet our PTZJoy Controller with Automation Tools for Live Production
Key Features
Organic Integration onto the TriCaster interface
Serial Port and IP Camera Control Software
Sony, Canon, Pelco, CGI and VISCA over IP, and UVC Protocol Support
Precise Pan/Tilt/Zoom/Focus Control
Control up to 28 Cameras from your live-production system
Convenient plug and play COM port setup
Supports any wired or wireless USB Joystick
Convenient virtual controls and keyboard shortcuts
Stores more that 500 internal and external presets per camera
Preset recall with instant Cut or Fade
Up to 12 Visualets™—Visual Preset Tiles
Stores up to 90 user profiles
Direct preset recall panel for one-click recall of most used presets on specific cameras
Far-end camera control from any device
Advanced video settings and adjustments
PTZPad™ Visual Preset Manager
Rocosoft Studio™ -Scheduling tools for camera automation 
Two versions to choose from: PRO, STUDIO
Add powerful Camera Management tools to your Production
Precise Camera Control Using Any Joystick
Ditch the expensive joystick control surfaces! Control the PTZ cameras connected to your TriCaster system using any wired or wireless professional or gaming joystick instead of with Newtek's dedicated control surfaces.
Custom Button Mapping for USB Joysticks with up to 30 Buttons

Three joystick performance modes available:

X-Joystick-panning on X axis only
Slow mode-limit top joystick speed
Soft mode-gradual joystick speed acceleration
Advanced Preset Management 
Greatly simplify the logistics of preset switching during a live production or broadcast
Save and recall up to 510 internal and external presets per camera
Visual Preset and Camera View Tiles for fast preset recall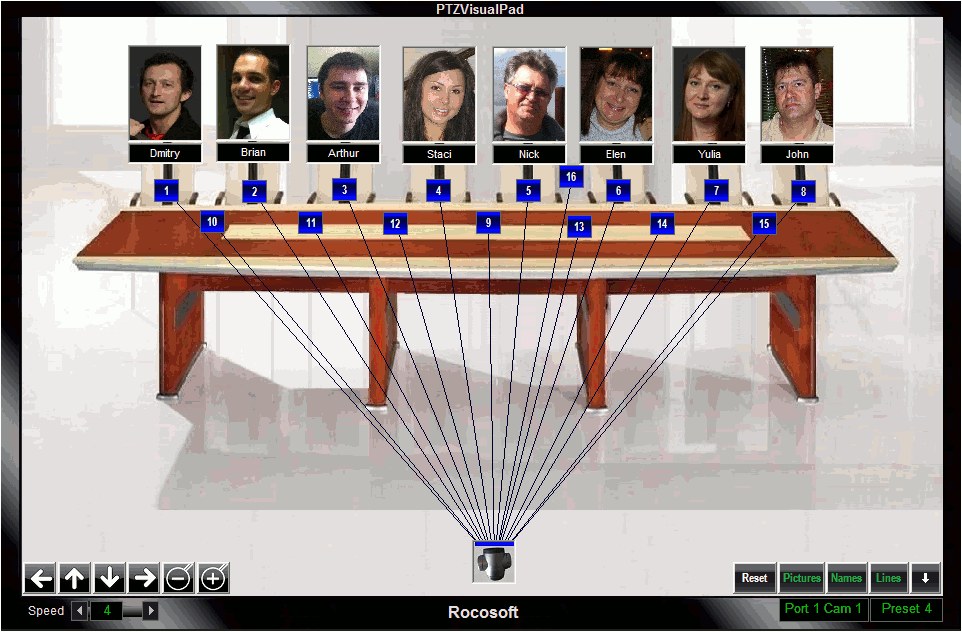 Rocosoft PTZPad™ Visual Control Panel - A Whole New Level of Control
Create a custom graphic user interface with a visual layout of camera presets on a live video or static image background. This tool makes it so easy to see where your presets are and allows you to quickly jump to the preset you want with the click of a button.
Totally customizable, users can set seat positions, camera positions, add pictures to represent people, add custom room layouts, and designate presets to specific locations in the room.
Powerful Camera Automation Tools
Camera automation tools greatly simplify camera management allowing for a seamless production
The Event Scheduler tool is for creating playlists for predetermined control of PTZ camera(s) at specific
time. Great for creating daily schedules for cameras.
The Group Task Manager sends commands to multiple cameras simultaneously and is for executing playlists with complex multi-camera movements that can be saved, recalled, and looped.
Broadcast commands to multiple cameras.
The Camera Tracer memorizes the trajectory of camera movements that can be saved, recalled, and looped.
Two Editions to choose from - Let's compare:
Rocosoft PTZJoy™ Controller Software for NewTek TriCaster Live Production systems comes in two editions: PTZJoy Pro, PTZJoy Studio. Our Controller Software is Universal and will allow you to control any Serial or IP Broadcasting camera, mix or match, from the same PTZJoy control panel.
| | PTZJoy Pro | PTZJoy Studio |
| --- | --- | --- |
| | | |
| Precise Pan/Tilt/Zoom/Focus Control | | |
| Plug and play COM port setup | | |
| Convenient virtual controls | | |
| USB Joystick Support, button mapping, & performance modes | | |
| Maximum VISCA Cameras | 24 | 24 |
| Maximum IP Cameras | 6 | 8 |
| Maximum Presets | 255 internal presets | 510 internal and external presets |
| Fast Recall Visual Preset Tiles | 9 | 16 |
| User Profiles | 1 | 90 |
| Keyboard Shortcuts and Macro Support | | |
| Camera Control Tools and Video Settings | | |
| Far-end camera control with WebRemote | | |
| Automation with Task Scheduler | | |
| Broadcast commands to multiple cameras | | |
| PTZPad™ Visual Panel | | |
| Automation with Timeline Task Manager | | |
| Automation with Camera Tracer | | |
| Multi-Cam Direct Control Panel | | |