Description
Rocosoft PTZVisual™ Pro Control Panel with PresetVisualizer™
PTZVisual Pro is a powerful preset management tool that gives you a visual representation of your presets. PTZVisual Pro utilizes a simple drag-and-drop method of simplifying preset management. It allows you to set a static or live background from a live camera feed, where you then drag presets onto to show their locations. It removes the need to remember which preset goes where. On top of that, PTZVisual Pro includes everything you need to control your cameras, including support for multiple cameras (each with its own set of presets), USB joystick support, and a lot of other control features.
PTZVisual Pro is often used as a way for technicians to simplify their environment. PTZVisual Pro can be overlayed on top of anything on the screen. This allows you to overlay all of your presets and cameras over the entire screen. It's the best Visual Tool to control your PTZ Cameras.
Rocosoft PTZVisual Pro Key Features
See the layout of your camera's preset positions

Configure the PTZVisual Pro Panel for multiple cameras and it will store settings for each camera

Use your custom background image or graphics

Up to 32 drag-and-drop Preset buttons per camera, each with replaceable background

Simple drag-and-drop configuration

Up to 16 drag-and-drop picture frames with corresponding name fields to represent people

Replace pictures and assign names to represent people

One touch Preset Recall

Control multiple cameras

Drag-and-drop camera position Icon with replaceable backgrounds

PTZLayer™ See-Through mode to use the PTZVisual Pro on top of a live camera view window or to cover the entire screen.

PTZLive™ feature using a built-in USB Video Monitor for dynamic Live Video Background

Pan-Tilt-Zoom directional buttons for Camera Control

Pan-Tilt-Zoom speed adjustment slider

Control the speed of preset recall

Camera Control using any wired or wireless USB Joystick

USB Joystick Custom Button Mapping for up to 30 buttons

4 Custom Button Mapping Profiles

Can be used in three sizes - Mini, HD720, and HD1080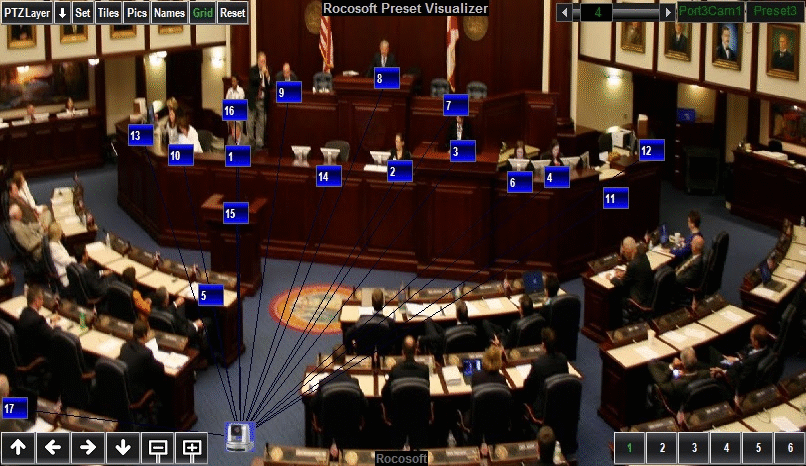 SEE your presets
Each preset is represented by a small square. Drag-and-drop those squares to their respective positions for easy organization.
Manage multiple cameras
Use multiple cameras with PTZVisual Pro. Quickly switch between each camera and seamlessly edit presets per camera. Each camera has its own set of presets, along with its own backgrounds and preset pictures.
Customize your background
Change the background of PTZVisual Pro for each camera. You can use a static image or you can make PTZVisual Pro transparent, and layer it over a live background, such as a camera feed.
32 presets per camera
Each camera has configurable drag-and-drop presets to manage. These are the small blue boxes that indicate preset position.
Visualets™
Each preset tile can be replaced with an image. You can link pictures to presets to make it even easier to manage your long list of presets.
PTZLayer™ feature
See through mode which allows you to layerPTZVisual Proover anything.
Universal
PTZVisual Pro controller works with Visca, IP, and UVC cameras. It supports ANY broadcasting camera.
Manage multiple cameras
Each camera has its own configuration, with its own presets.
Use with Live Production
Use PTZVisual Pro over Tricaster, vMix, Livestream, and any other Live Production system. PTZVisual Pro layers over these system very well, making it easy to manage presets live.
4 USB button mapping profiles
You can set your own button mapping scheme for your joystick, allowing you to change the function of buttons as you please.
Control your cameras
PTZVisual Pro comes with tools to control your cameras. You can control your cameras using a USB joystick or you can use the on-screen directional buttons.
Drag-and-drop picture frames
16 drag-and-drop picture frames with corresponding name fields to represent people. Drop a name/picture box under someone's face in a live stream to easily switch to their preset.