PTZPad Preset Visualizer PTZ Camera Controller Software
PRODUCT HIGHLIGHTS
Works on PC, Laptop, Tablet, TriCaster, vMix, and all other live production systems
Works with Sony, Panasonic, Canon, NewTek, PTZOptics, Lumens, Datavideo, and other PTZ Cameras
See your camera's presets from a bird's eye view and easily recall with click of a button
Full PTZ Camera Controller, with added ease-of-use visualization features
PTZPad™ Preset Visualizer Control Panel
PTZPad is a powerful preset management tool that gives you a bird's eye view visual representation of your camera presets. PTZPad utilizes a simple drag-and-drop method of simplifying preset management. It allows you to set a static or live video background from a live camera feed on the panel to show that camera's perspective view, and then drag presets on that camera's view panel to show their locations. It removes the need to remember which preset goes where and lets you organize presets of multiple cameras and recall with one click.
PTZPad is often used as a way for technicians to simplify their environment. Volunteers and less skilled operators don't need to remember which cameras or presets they need to control - they can simply click on an image and go live with that camera's preset position.
PTZPad can be overlayed on top of anything on the screen. This allows you to overlay all of your presets and cameras over the entire screen.
PTZPad is also a stand-alone PTZ Camera Controller and includes everything you need to control your cameras, including support for multiple cameras (each with its own set of presets), USB joystick support, and a lot of other control features.
It's the best Visual Tool to control your PTZ Cameras.
Rocosoft PTZPad Key Features
See the layout of your camera's preset positions in a bird's eye view

Configure the PTZPad Panel for multiple cameras and it will store settings for each camera

Use your custom background image or graphics

Up to 32 drag-and-drop Preset buttons per camera, each with replaceable background

Simple drag-and-drop configuration

Up to 16 drag-and-drop picture frames with corresponding name fields to represent people

Replace pictures and assign names to represent people

One touch Preset Recall

Control multiple cameras

Drag-and-drop camera position Icon with replaceable backgrounds

PTZLayer™ See-Through mode to use the PTZPad on top of a live camera view window or to cover the entire screen.

Pan-Tilt-Zoom directional buttons for Camera Control

Pan-Tilt-Zoom speed adjustment slider

Control the speed of preset recall

Camera Control using any wired or wireless USB Joystick

USB Joystick Custom Button Mapping for up to 30 buttons

4 Custom Button Mapping Profiles

Can be used in three sizes - Mini, HD720, and HD1080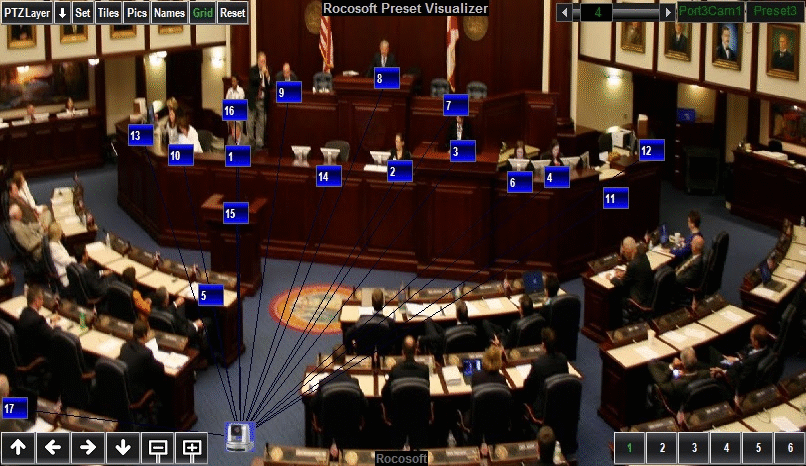 SEE your presets
Visualize your presets from a bird's eye view on the panel. Each preset is represented by a small square. Drag and drop those squares to their respective positions for easy organization.
Manage multiple cameras
Use multiple cameras with PTZPad. Quickly switch between each camera and seamlessly edit presets per camera. Each camera has its own set of presets, along with its own backgrounds and preset pictures.
Customize your background
Change the background of PTZPad for each camera. You can use a static image or you can make PTZPad transparent, and layer it over a live background, such as a camera feed.
32 presets per camera
Each camera has configurable drag-and-drop presets to manage. These are the small blue boxes that indicate preset position.
Visualets™
Each preset tile can be replaced with an image. You can link pictures to presets to make it even easier to manage your long list of presets.
PTZLayer™ feature
See-through mode, which allows you to layer PTZPad over anything.  Great for layering over Newtek NDI Studio Monitor window or VLC Media Player input screens and managing presets live.
Universal
PTZPad controller works with any broadcasting camera.
One Click Recall
Simple one click preset recall from the interface with the click of a button.
Use with Live Production
Use PTZPad on Tricaster, vMix, Livestream, and any other Live Production system. PTZPad layers over these systems very well, making it easy to manage presets live.
4 USB button mapping profiles
You can set your own button mapping scheme for your joystick, allowing you to change the function of buttons as you please.
Control your cameras
PTZPad comes with tools to control your cameras. You can control your cameras using a USB joystick, Virtual joystick, or you can use the on-screen directional buttons.
Drag-and-drop picture frames
16 drag-and-drop picture frames with corresponding name fields to represent people.
Manufacturer

Rocosoft Inc.

Media Type

PC Download – Software Installation and Activation Instructions sent via email along with User Manual.

Licensing

1 computer per license. Purchased software does not expire.

Operating Systems

Windows Vista, Windows 7, Windows 8, Windows 8.1, and Windows 10

Supported IP Cameras

Sony VISCA over IP Protocol:
Sony: BRC-X1000, SRG-120, SRG-300, SRG-360, all other Sony Cameras with IP Extension Module
NewTek: NDI NDIHX-PTZ1
Lumens: All Lumens IP PTZ Cameras

Sony CGI IP Protocol:
All Sony IPELA IP PTZ Cameras

Panasonic CGI IP Protocol:
Panasonic: AW-HE2, AW-HE40, AW-HE50, AW-HE60, AW-HE120, AW-HE130, AW-UE70, AW-HR140, AW-HE65, AW-HE38, AW-HE58, AW-HE35, AW-HE48

PTZOptics VoIP-VISCA over IP and CGI IP Protocols:
PTZOptics: 12X-IP, 12X-USB, 20X-IP, 20X-USB, 12X-SDI-G2, 12X-USB-G2, 20X-SDI-G2, 20X-USB-G2

Datavideo VoIP-VISCA over IP Protocol:
All Datavideo IP cameras

Supported Serial Port Cameras

Sony: BRC-X1000, BRC-300, BRC-H300, BRC-H700, BRC-Z700, BRC-H900, BRC-Z330, SNC-RZ30, EVI-H100S, EVI-H100S/W, EVI-H100V, EVI-H100V/W, EVI-HD1, EVI-HD3V, EVI-HD7, EVI-DHD7V, SRG-300H, SRG-300SE, SRG-120DH, SRG-360, PCS-HG90, PCSA-CHG90, EVI-D30, EVI-D31, EVI-D70, EVI-D80, EVI-D90, EVI-D100, EVI-D100P, EVI-D20G, and all newer Sony Visca PTZ cameras.
Panasonic: AW-HE40, AW-HE50, AW-HE60, AW-HE120, AW-HE130, AW-UE70, AW-HR140
NewTek: NDI NDIHX-PTZ1
Vaddio: RoboShot, ClearVIEW HD-18-19-20, ClearVIEW HD-USB, PowerVIEW HD-22-30, WallVIEW HD-18-19
HuddleCam HD: 3X, 10X 720p, 10X, 3X Wide, 12X, 18X, 20X, 30X
PTZOptics: 12X-IP, 12X-USB, 20X-IP, 20X-USB, 12X-SDI-G2, 12X-USB-G2, 20X-SDI-G2, 20X-USB-G2
JVC: KY-PZ100BU, KY-PZ100WU
Lumens: VC-A20P, VC-A202P, VC-G30, VC-G50, VC-200
Datavideo: PTC-120, PTC-100, PTC-150
Elmo: PTC-100s
Infocus: INF-SPTZ-2 REALCAM
Marshall: VISCA Cameras
Hitachi: All VISCA Cameras
Bolin: All VISCA Cameras
Ross: Pivotcam
1 Beyond: PTZ-S20, PTZ-IP12, PTZ-IP20, PTZ-IP30, Auto Tracker 2, AutoTracker 2 IP
All other PTZ cameras with Mini Din8 RS-232 connector, or 9pin RS-422 Connector, or RJ45 RS-422 Connector, or RJ45 RS-485 Connector for control

PTZJoy Edition

PTZJoy Pro, PTZJoy Studio
Need a solution to connect your PTZ Cameras?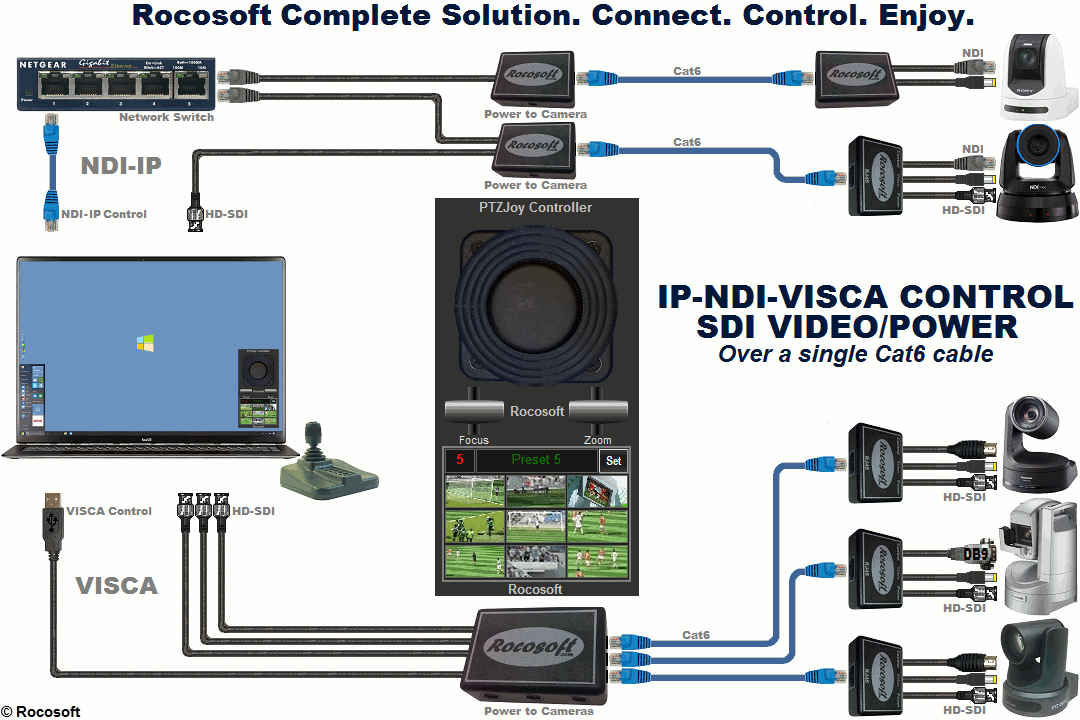 Simplify your setup and pair our PTZJoy PTZ Camera Controller Software with our PTZ Camera Control Cable Sets that connect remote PTZ cameras to a PC, NewTek TriCaster, Livestream, vMix, Wirecast, Telemetrics Control Panel, or Sony RM-BR300/IP10 Controller for a complete solution to connect and control your PTZ Cameras.
We specialize in extending VISCA control, HD-SDI video, composite video, and power signals over CAT network cables up to 1000ft and offer multiplexers and CAT extenders that take the guess work out of setting up your PTZ cameras.