Rocosoft PTZJoy™ Controller Software Features
Add Precise Joystick Control to TriCaster, vMix, Wirecast, or PC!
Supports VISCA, Canon, Pelco, CGI, VISCA over IP, and UVC Protocols
No matter what type of PTZ camera you decide to use for your configuration, we have you covered. With options for VISCA, Canon, Pelco Serial Port protocols, CGI and VISCA over IP protocols, and UVC protocol camera control, our software solutions support virtually all professional broadcasting PTZ cameras available on the market today.
 TriCaster, vMix, Livestream, Wirecast Integration
The PTZJoy software integrates into the TriCaster, vMix, Wirecast, or Livestream interfaces and adds advanced PTZ controls, powerful preset tools, and camera automation technology to your production system.
Our software becomes part of your production system and provides you with professional PTZ control options and camera management tools and functionality that are significantly more extensive than those offered by the system's internal PTZ control settings.
 PTZ Camera Control Made Simple
With several different control options, users can choose to control cameras with a virtual joystick, a USB joystick, keyboard shortcuts, button controls, or turn any laptop touchpad or trackball mouse into a joystick controller.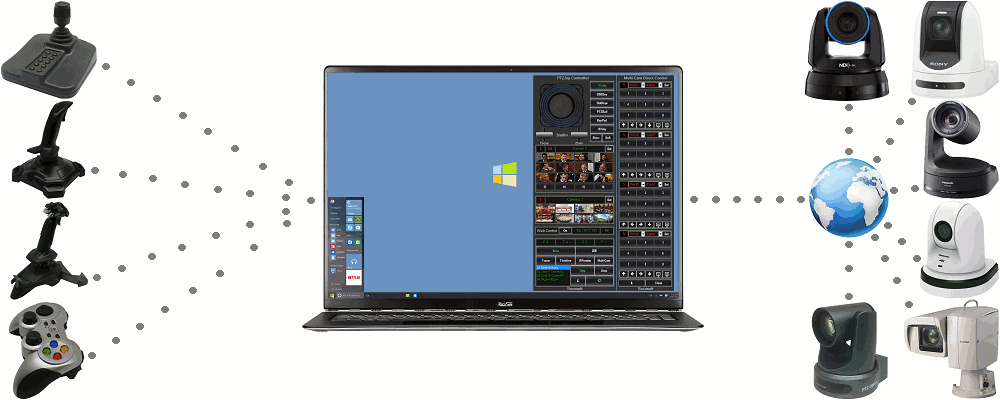 Precise Camera Control using any USB Joystick with any Computer or Live Production System
Ditch the limited functionality joystick control surfaces! Turn any wired USB joystick, wireless Bluetooth joystick, or gaming joystick into a precise professional PTZ Camera Controller.
Simultaneous Pan-Tilt-Zoom Control
Three joystick performance modes available:
X-Joystick-panning on X axis only
Slow mode-limit top joystick speed
Soft mode-gradual joystick speed acceleration

Custom Button Mapping for USB Joysticks with up to 30 Buttons
Far-End PTZ Camera Control from any Mobile Device
Control cameras from any Device with a Web Browser
Works with iPhones, iPads, Android phones and tablets, Windows phones and tablets, Google phones and tablets, Mac computers, PCs, and all other devices with a web browser.
Supports all web browsers such as Internet Explorer, Google Chrome, Safari, Mozilla Firefox, etc.
Powerful Preset Management Tools
Greatly simplify the logistics of preset switching 
Save and recall up to 510 internal and external presets per camera 
Visual Preset and Camera View Tiles for fast preset recall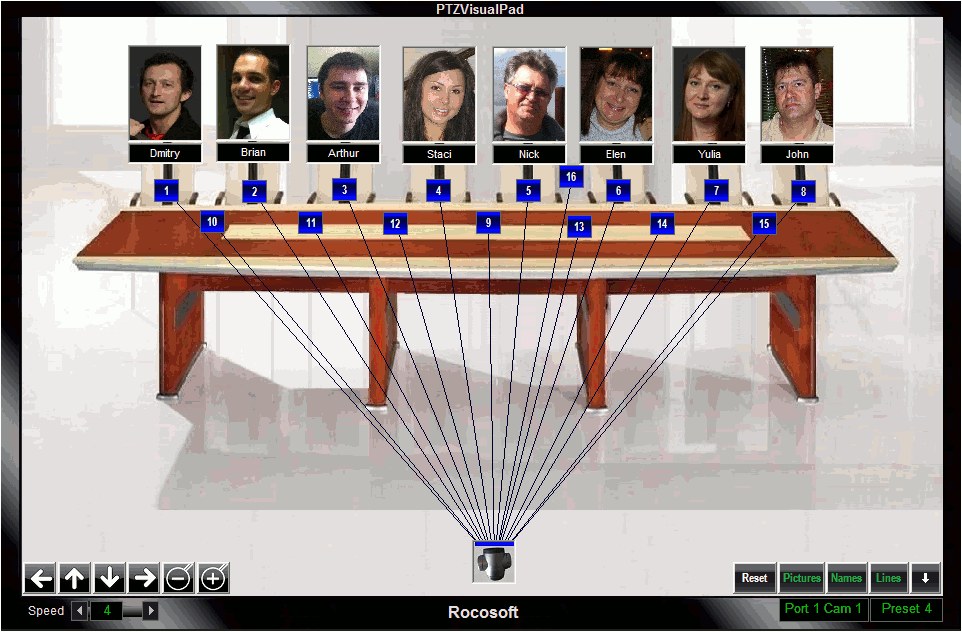 PTZPad™ Visual Preset Control Panel - Preset Switching Just Got Easier
Our innovative PTZPad™ Panel creates a visual camera preset layout for one-click preset recall that is perfect for working with complex video production environments.
This tool makes it so easy to SEE where your presets are instead of having to remember presets by number or name, and allows you to quickly jump to the preset you want with the click of a button.
Forget about preset lists and never worry about clicking on the wrong camera or preset and missing a shot during your live broadcast.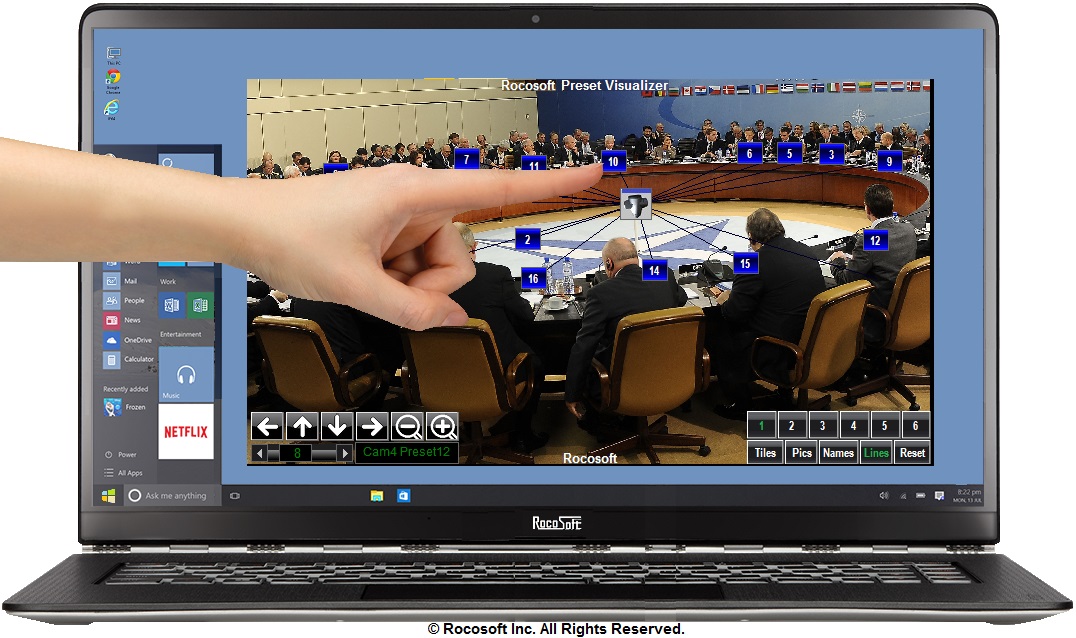 Touch Screen Device Support
The PTZJoy Controller Software works on any Windows based device with a touch-screen - Laptop, Tablet, Secondary Monitor
The Virtual on-screen Joystick and directional control buttons offer smooth camera movements
The Visual Preset Tiles on the PTZPad Visual Control Panel can be moved, tapped, double clicked, and configured with easy
Powerful Camera Automation Tools
Scheduling tools for camera automation greatly simplify camera management
The Event Scheduler tool is for creating playlists for predetermined control of PTZ camera(s) at specific
time. Great for creating daily schedules for cameras.
The Timeline Task Manager sends commands to multiple cameras simultaneously and is for executing playlists with complex multi-camera movements that can be saved, recalled, and looped.
The Camera Tracer memorizes the trajectory of camera movements that can be saved, recalled, and looped.

 
Multi-Camera Direct Control Panel
Control selected cameras directly independently of the main control panel
Recall Presets
Set Presets
Re-Set Presets
Manage Preset Tile Background Images.
Control Pan-Tilt-Zoom of each camera with Directional Control Buttons directly from it's respective block.
There are three layouts available with easy switching between them - Inline vertical, Inline horizontal, and 2x2 like in the image here
Automation with PTZJoy Studio
PTZJoy Studio is all about precise control and automation. You are able to automate your cameras using our most powerful automation tools.
You can schedule timed tasks for your cameras to complete using our Task Scheduler. Multiple cameras can be given a task to complete at specified times, or they can all do the same task at the same time.
With our TimeLine Task Scheduler, you can create a timeline of tasks for your cameras to complete. You can send commands to multiple cameras at once, loop the task list, along with choose just about any action for you cameras to complete.
Get rid of annoying and repetitive joystick movements with our Camera Tracer. Camera Tracer allows you to record your joystick movements, save them, and then play them back. This is perfect for those that repeat Joystick movements, as you can play the recorded movements back for any camera. All you do is choose the trace, then click play.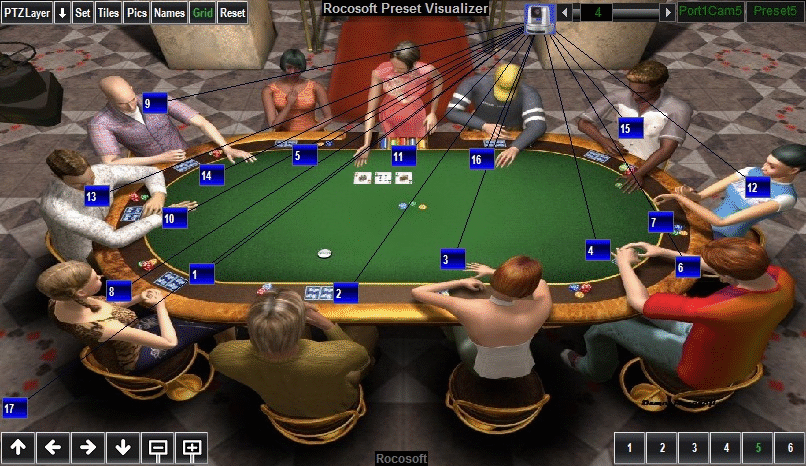 Visualize Your Setup with PTZPad
The idea of PTZPad is to give you a visual representation of positions of your cameras and their presets. In PTZPad, you can drag-and-drop presets onto a static or live background, and you can do this for multiple cameras. Each camera has its own preset button set, and each preset draws a line to the camera.
For example, you can set the background image to an image of a church. Drag-and-drop your Camera 1 to the top of the church where the camera is actually located. Then, drag-and-drop each preset to its respective location. If Preset 1 is set to zoom in on the choir, drag-and-drop the Preset 1 box onto the choir location. Now, repeat this process for your Camera 2, which is located behind the audience.
Once it's time for you to start managing your cameras, you can pull up PTZPad and simply click on the location you want your camera to go to. It's as simple as that!
Now imagine doing those steps over a live background, say of a concert. You can dynamically move the preset buttons around as you need it.