Rocosoft PTZJoy™ Controller Software Features
Supports VISCA, Canon, Pelco, CGI, VISCA over IP, and UVC Protocols
No matter what type of PTZ camera you decide to use for your configuration, we have you covered. With options for VISCA, Canon, Pelco Serial Port protocols, CGI and VISCA over IP protocols, and UVC protocol camera control, our software solutions support virtually all professional broadcasting PTZ cameras available on the market today.
 TriCaster, vMix, Livestream, Wirecast Integration
Our Live Production Edition software integrates directly into the TriCaster, vMix, Wirecast, or Livestream interfaces and adds advanced PTZ controls, powerful preset tools, and camera automation technology to your production system.
Our software becomes part of your production system and provides you with professional PTZ control options and camera management tools and functionality that are significantly more extensive than those offered by the system's internal PTZ control settings.
 PTZ Camera Control Made Simple
With several different control options, users can choose to control cameras with a virtual joystick, a USB joystick, keyboard shortcuts, button controls, or turn any laptop touchpad or trackball mouse into a joystick controller.
Precise Camera Control Using Any Joystick
Ditch the limited functionality joystick control surfaces! Turn any wired USB joystick, wireless Bluetooth joystick, or gaming joystick into a precise professional PTZ Camera Controller.
Three joystick performance modes available:
X-Joystick-panning on X axis only
Slow mode-limit top joystick speed
Soft mode-gradual joystick speed acceleration

Custom Button Mapping for USB Joysticks with up to 30 Buttons
Far-End PTZ Camera Control from any Mobile Device
Control cameras from from ANYWHERE and from ANY computer or mobile device
Works with iPhones, iPads, Android phones and tablets, Windows phones and tablets, Google phones and tablets, Mac computers, PCs, and all other devices with a web browser.
Supports all web browsers such as Internet Explorer, Google Chrome, Safari, Mozilla Firefox, etc.
Powerful Preset Management Tools
Greatly simplify the logistics of preset switching 
Save and recall up to 510 internal and external presets per camera 
Visual Preset and Camera View Tiles for fast preset recall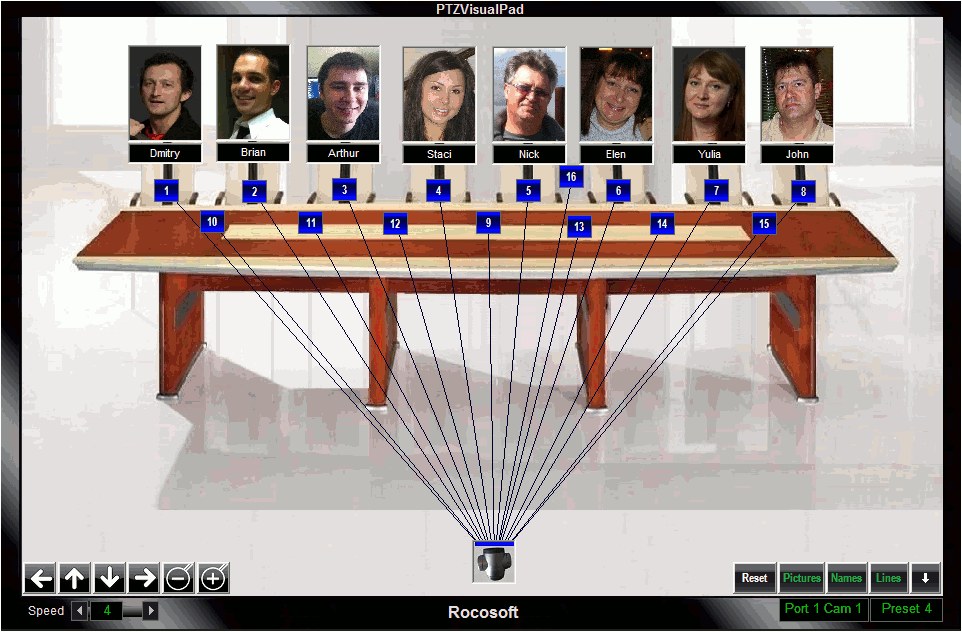 Rocosoft PTZPad™ Visual Controller - A Whole New Level of Control
Create a custom graphic user interface with a visual layout of camera presets on a live video or static image background. This tool makes it so easy to see where your presets are and allows you to quickly jump to the preset you want with the click of a button.
Totally customizable, users can set seat positions, camera positions, add pictures to represent people, add custom room layouts, and designate presets to specific locations in the room.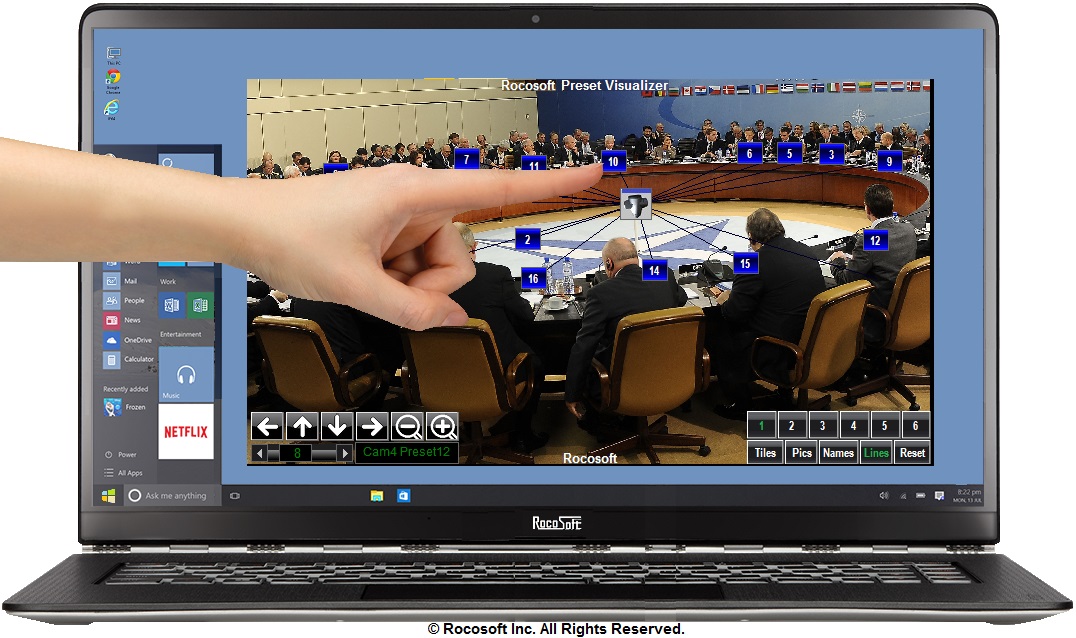 Full Touch Screen Device Support
The Virtual on-screen Joystick and directional control buttons offer smooth camera movements.

The Visual Preset Tiles can be moved, clicked, and configured with ease.
Powerful Camera Automation Tools
Scheduling tools for camera automation greatly simplify camera management
The Event Scheduler tool is for creating playlists for predetermined control of PTZ camera(s) at specific
time. Great for creating daily schedules for cameras.
The Timeline Task Manager sends commands to multiple cameras simultaneously and is for executing playlists with complex multi-camera movements that can be saved, recalled, and looped.
The Camera Tracer memorizes the trajectory of camera movements that can be saved, recalled, and looped.