Rocosoft PTZJoy™ PTZ Camera Controller Software Features

The Precision You Need, The Functionality You Want
Supports Sony, Panasonic, Canon, Pelco, CGI, and VISCA over IP Protocols
No matter what type of PTZ camera you decide to use for your configuration, we have you covered. With options for Sony VISCA, Panasonic, Canon, VISCA over IP, and NDI camera control, our software solutions support virtually all professional broadcasting PTZ cameras available on the market today.
NewTek TriCaster, vMix, Livestream, Wirecast Integration
The PTZJoy software integrates into the TriCaster, vMix, Wirecast, or Livestream interfaces and adds advanced PTZ controls, powerful preset tools, and camera automation technology to your production system.
Our software becomes part of your production system and provides you with professional PTZ control options, camera management tools, and functionality that are significantly more extensive than those offered by the system's internal PTZ control settings.
 PTZ Camera Control Made Simple
With several different control options, camera operators can choose to control cameras using a variety of options:
Precise on-screen virtual joystick - mimics a real joystick
Any gaming or professional USB joystick, including an Xbox Controller
Two layer NumberPad Hotkeys - use the Number Pad on your keyboard as a PTZ Controller and switcher
On-screen Directional Buttons
Turn any laptop touchpad or trackball mouse into a joystick controller
Camera control from external programs using Macros and HTTP requests
Precise Camera Control using any USB Joystick or Gaming Joystick
Ditch the limited functionality joystick control surfaces! Turn any wired USB joystick, wireless Bluetooth joystick, or gaming joystick into a precise professional PTZ Camera Controller.
Simultaneous Pan-Tilt-Zoom Control with USB joysticks
Use a gaming joystick handle or rudder for zoom control
Custom Button Mapping for USB/Gaming Joysticks with up to 30 Buttons

Assign any command to any button on any professional joystick, gaming joystick, or gaming controller, including the directional pad buttons on gaming controllers such as Xbox controller
4 Joystick Button Mapping Profiles – set up to 4 different configurations (profiles) of button shortcuts on your joystick

Support for multiple simultaneously connected USB or Bluetooth joysticks – have multiple joysticks connected and each joystick is assigned a camera to control
Multi-Joystick individual camera control - connect multiple joysticks and use them to control individual cameras, any joystick can control any camera
Three joystick performance modes available:
Pan Only Mode - limits camera movements to pan on X axis only
Slow Mode - allows for smoother camera control by expanding the joystick travel between speed changes
Soft Mode - gradual joystick speed acceleration for a flying camera effect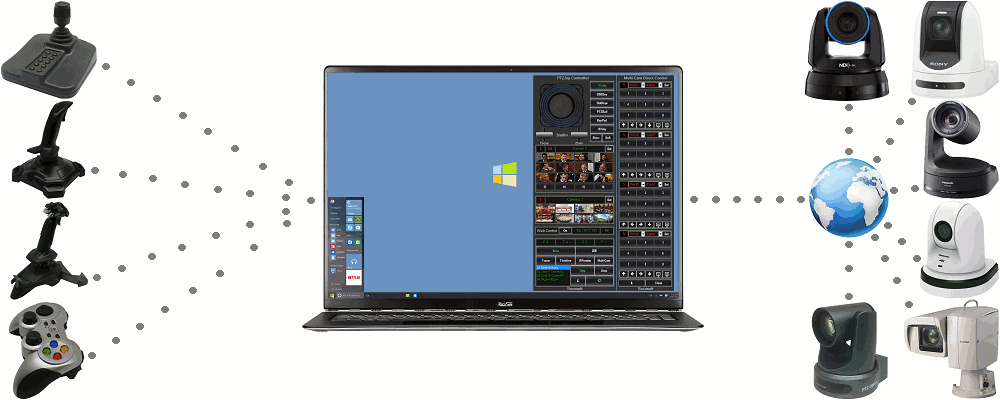 Far-End PTZ Camera Control from anywhere with a USB Joystick
The FarCam API feature allows two instances of PTZJoy Controller to "communicate" with each other, allowing for far-end PTZ camera control from ANYWHERE. You can connect your local PTZJoy Controller to a remote PTZJoy Controller and precisely control your remote cameras and studio equipment.*
Not only can you control your cameras remotely with a joystick, you can do everything that you normally with your remote PTZ Controller, but locally. That means that you can use the keyboard hotkeys, call on presets, adjust camera's video settings, and use any advanced software features included in your purchased software version such as Macros, Multi-Cam Direct Control, PTZPad Preset Visualizer, Camera Tracer, Timeline Task Scheduler, and more.
*requires at least 2 software licenses
Far-End PTZ Camera Control from any Mobile Device
Control cameras from any mobile device with a web browser over any LAN, Wi-Fi, and WAN IP network. Use it as a far-end controller to switch between cameras, control pan, tilt, zoom, and focus, call on presets, and run macros. There is no limit on the quantity of simultaneous connections to our PTZ Web Server. It means that cameras can be controlled simultaneously from as many devices as needed. It's extremely useful when controlling IP cameras that are connected to an internal LAN network. PTZJoy becomes a gateway so the cameras can be controlled over LAN, Wi-Fi, or WAN with no individual IP addresses for each camera needed. They will be just Cam1, Cam2, Cam3, etc. on the controlling device.
Works with iPhones, iPads, Android phones and tablets, Windows phones and tablets, Google phones and tablets, Mac computers, PCs, and all other devices with a web browser.
Supports all web browsers such as Internet Explorer, Google Chrome, Safari, Mozilla Firefox, etc.
Powerful Preset Management Tools
Greatly simplify the logistics of preset switching with a variety of preset control options.
Save and recall up to 255 internal and 255 external (saved in PTZJoy app) presets per camera
Camera and Preset Buttons with customizable thumbnail images - choose from our library of premade graphics and labels or make your own. We have an in-app Snip tool with support for .bmp, .png, .gif, and .jpg file formats.
Use the Preset Dialer to set and recall even more presets by simply dialing the preset number to recall
Customize the pan, tilt, AND zoom camera speed between presets smoother transitions
Touch Screen Device Support
The PTZJoy Controller Software works on any Windows based device with a touch-screen - Laptop, Tablet, Secondary Monitor
The Virtual on-screen Joystick and directional control buttons offer smooth camera movements
The Visual Preset Tiles on the PTZPad Visual Control Panel can be moved, tapped, double clicked, and configured with easy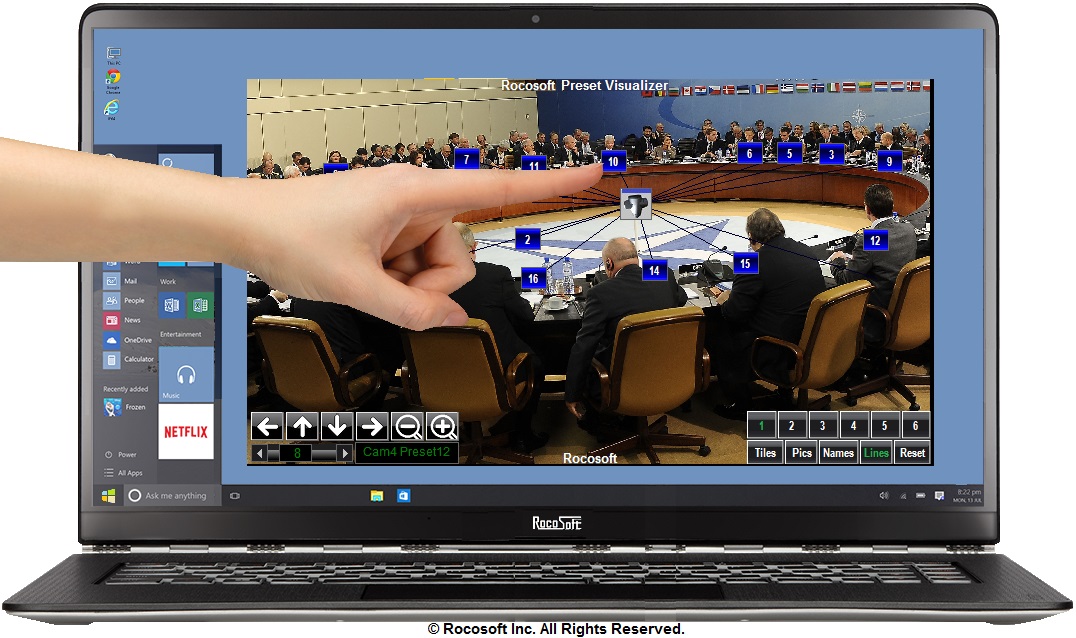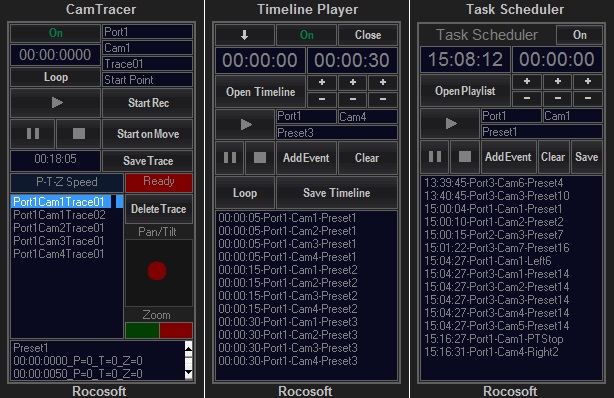 Simplify Workflow with Camera Automation Tools
PTZJoy PTZ Camera Controller Software offers a variety of PTZ camera automation tools. Single operators can create some really dynamic productions because they can create shortcuts that automate camera movements to save time, simplify workflow, and eliminate error.
Timeline Task Manager enables users to create playlists that send commands to multiple cameras simultaneously. Great for automating complex multi-camera movements.
Camera Tracer allows users to create recordings of PTZ Camera's movements to save and replay later. Record the movements of PTZ Camera using a USB Joystick or the virtual controls. Record common sequences once and play back later to save time and simplify workflow.The Event Scheduler tool is for creating playlists for predetermined control of PTZ camera(s) at specific time. Great for creating daily schedules for cameras.
Task Scheduler allows users to create a schedule for multiple PTZ cameras to execute specific commands at a certain time. Great for security application that require operator-free camera positioning
Auto-Pan allows you to move any camera left and right with a specified speed on a cycle.
Preset Scan allows you to command a selected camera to scan between presets at a specified time interval.
Multi-Camera Direct Control Panel
Simultaneously manage multiple cameras and recall presets in one, simplified view
Independent of the main controller and lets you switch your camera's presets without having switch between your cameras first
Set and recall presets and manage preset thumbnail images directly from this panel
Control Pan-Tilt-Zoom of each camera with Directional Control Buttons directly from it's respective block
There are three layouts available with easy switching between them - Inline vertical, Inline horizontal, and 2x2 like in the image here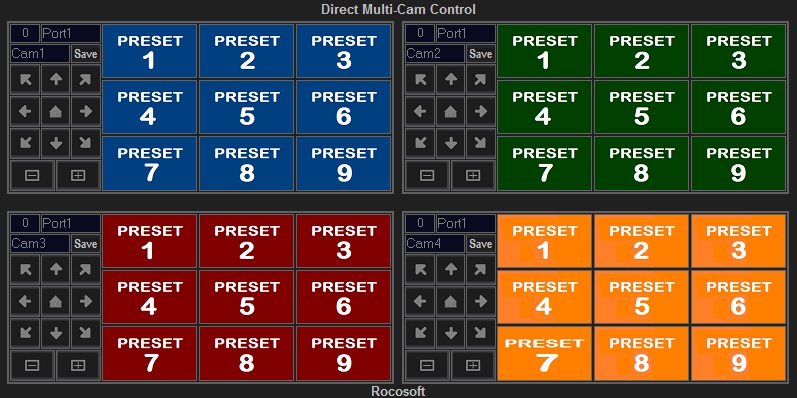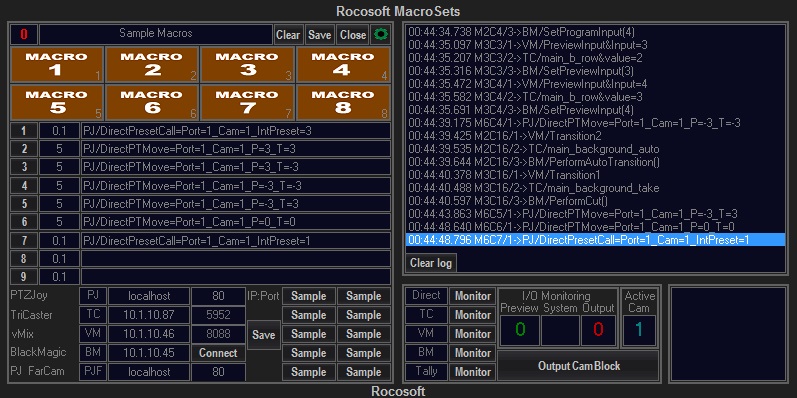 Macros - More Control With the Click of a Button
Create scripts of commands, called Macros, and use the Macro shortcut buttons in PTZJoy to execute complex sequences of actions with a single click of a button, or a keypress on a joystick or computer keyboard.
MacroSets Panel with Macro buttons to control vMix, TriCaster, and Panasonic switchers and PTZ Cameras
A robust library of commands for nearly all PTZ Camera functions, as well as the ability to control any live production equipment that responds to HTTP and VISCA commands directly from PTZJoy Software
Run Macros using joystick buttons, WebRemote, PTZLive Visual Control Panel, Timeline Player, and external applications using API
MacroSets Panel adds possibility to execute individual custom commands, run scripts, load programs, send HTTP requests, etc.
Full API Support from External Apps and Devices
Our built-in API allows camera operators to control PTZ Cameras and live production equipment from external programs and keyboards using Macros and HTTP Requests.
With our robust list of HTTP request commands, it's simple to integrate PTZJoy Controller with a variety of applications and programmable keyboards, such as Elgato StreamDeck, Xkeys, and more.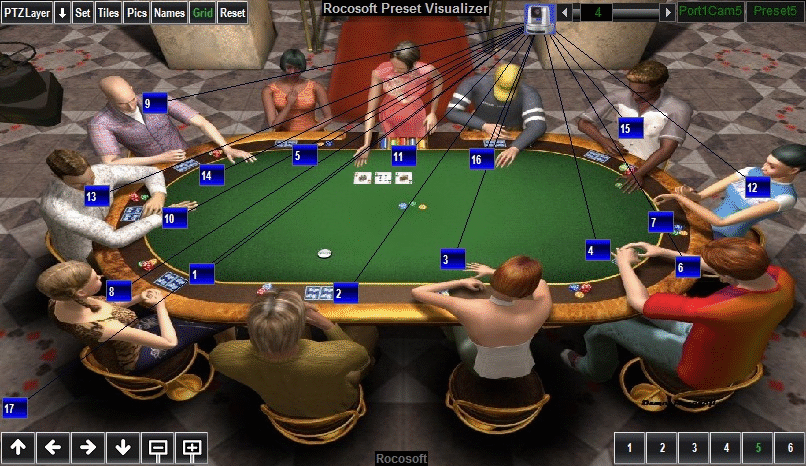 Visualize Your Setup with PTZPad™ Visual Preset Control Panel
PTZPad is a powerful preset management GUI tool that gives you a bird's eye view visual representation of your cameras and their presets. It allows you to set a static or live video background from a live camera feed on the panel to show that camera's perspective view, and then drag and drop presets on that camera's view panel to show their locations. It removes the need to remember which preset goes where and lets you organize multiple camera's presets and recall with one click.
PTZPad is often used as a way for technicians to simplify their environment. Volunteers and less skilled operators don't need to remember which cameras or presets they need to control - they can simply click on an image and go live with that camera's preset position.
PTZLive can be overlaid on top of anything on the screen. Great for layering over TriCaster or vMix input screens and managing presets live.
PTZLive is also a stand alone PTZ Camera Controller and includes everything you need to control your cameras, including support for multiple cameras (each with its own set of presets), USB joystick support, and a lot of other control features.
Watch PTZJoy PTZ Camera Joystick Controller Software in Action
Rocosoft Video Tutorial Series
How to Control PTZ Cameras with PTZJoy
How to Set and Recall Presets with PTZJoy
Camera Automation with Timeline Task Manager Tool
Camera Automation with Camera Tracer Tool
Macro Manager - Controlling PTZ Cameras and vMix with Macros
Macro Manager - Controlling PTZ Camera and TriCaster w/ Macros
Control PTZ Cameras with and Xbox 360 Controller
PTZ Camera Control with Elgato Streamdeck and PTZJoy