RS-232 USB VISCA Control Extendable Balun Cable Set
PRODUCT HIGHLIGHTS:
An easy way to connect a remote PTZ camera to a computer
Up to 1000 ft extension with any network cable
No drivers needed
USB COM Port Number Retention
Works with any PTZ software
Rocosoft VISCA USB to RS-232 Control Extendable Balun Cable Set connects a distant PTZ camera to a computer, laptop, tablet, NewTek TriCaster, Livestream, vMix, and all other Live Production systems.
Features:
Allows VISCA PTZ camera control from any computer, tablet, laptop, or any live production, broadcasting or webcasting PC
Can be extended up to 1000ft with any standard CAT5/5E/6 Ethernet network patch cable
Creates a virtual COM port on the PC, accessable by any PTZ camera control software
No drivers needed - uses internal Windows FTDI drivers
Features USB COM Port Number Retention - the COM port number will stay the same when connecting our adapter to a different USB port
Works with all PTZ control software applications
Manufacturer

Rocosoft Inc.

Operating Systems

Windows Vista, Windows 7, Windows 8, Windows 8.1, and Windows 10

Supported Cameras

Sony: BRC-X1000, BRC-300, BRC-H300, BRC-H700, BRC-Z700, BRC-H900, BRC-Z330, SNC-RZ30, EVI-H100S, EVI-H100S/W, EVI-H100V, EVI-H100V/W, EVI-HD1, EVI-HD3V, EVI-HD7, EVI-DHD7V, SRG-300H, SRG-300SE, SRG-120DH, SRG-360, PCS-HG90, PCSA-CHG90, EVI-D30, EVI-D31, EVI-D70, EVI-D80, EVI-D90, EVI-D100, EVI-D100P, EVI-D20G, and all newer Sony Visca PTZ cameras.
Panasonic: AW-HE40, AW-HE50, AW-HE60, AW-HE120, AW-HE130, AW-UE70
NewTek: NDI PTZ1
Vaddio: RoboShot, ClearVIEW HD-18-19-20, ClearVIEW HD-USB, PowerVIEW HD-22-30, WallVIEW HD-18-19
HuddleCam HD: 3X, 10X 720p, 10X, 3X Wide, 12X, 18X, 20X, 30X
PTZOptics: 12X-IP, 12X-USB, 20X-IP, 20X-USB
Lumens: VC-A20P, VC-A202P, VC-G30, VC-G50, VC-200
Datavideo: PTC-120, PTC-100, PTC-150
Elmo: PTC-100s
Infocus: INF-SPTZ-2 REALCAM
Marshall: VISCA Cameras
Hitachi: VISCA Cameras
Bolin: VISCA Cameras
Ross: Pivotcam
1 Beyond: PTZ-S20, PTZ-IP12, PTZ-IP20, PTZ-IP30, Auto Tracker 2, AutoTracker 2 IP
All other PTZ cameras with a Mini Din8 RS-232 connector

Cable Type

FTDI USB to VISCA RS-232

Connector Type

USB for control, Mini Din8 for camera connection
Need a solution to connect your PTZ Cameras?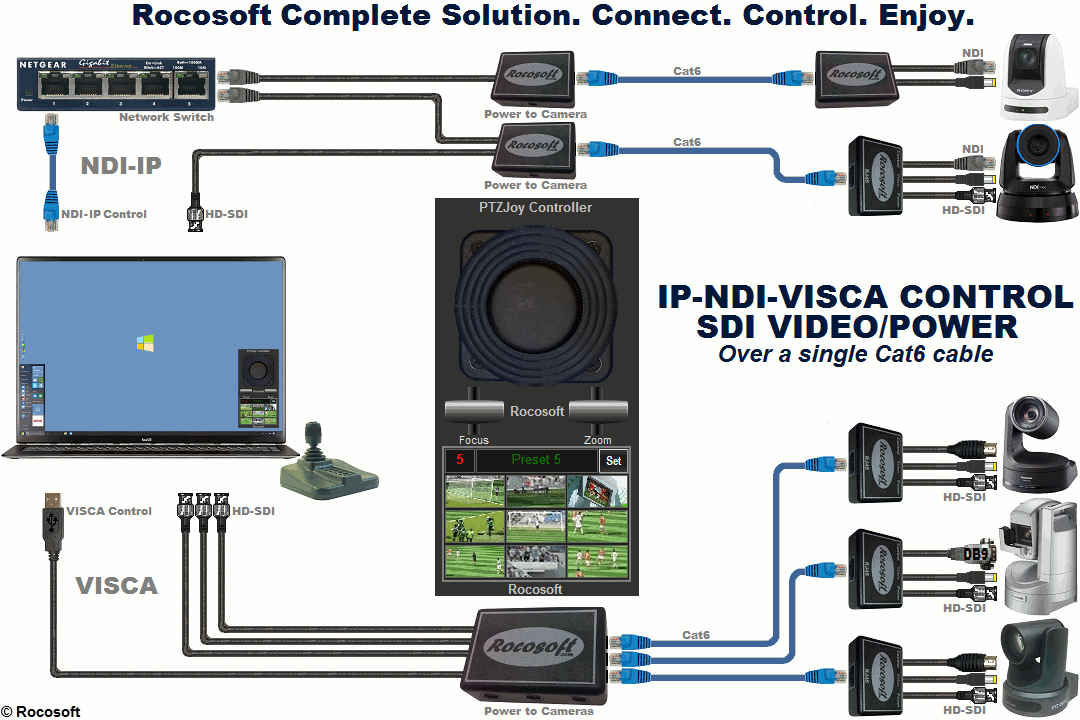 Simplify your setup and pair our PTZJoy PTZ Camera Controller Software with our PTZ Camera Control Cable Sets that connect remote PTZ cameras to a PC, NewTek TriCaster, Livestream, vMix, Wirecast, Telemetrics Control Panel, or Sony RM-BR300/IP10 Controller for a complete solution to connect and control your PTZ Cameras.
We specialize in extending VISCA control, HD-SDI video, composite video, and power signals over CAT network cables up to 1000ft and offer multiplexers and CAT extenders that take the guess work out of setting up your PTZ cameras.