Professional PTZ Camera Joystick Controller
PTZ Camera Joystick Controller Software is a professional camera management software for controlling Serial and IP cameras from a PC, Tablet, TriCaster, vMix, Livestream, Wirecast, and other Live Production Systems.
Why settle for a regular hardware joystick controller when you can have so much more? PTZ Controller replaces the limited functionality hardware joystick control surface with a more precise computer-based controller that works with any USB Joystick, has a precise virtual on-screen joystick, keyboard shortcuts, far-end camera control, multi-joystick support, OSD Camera Menu Control, Macro support, advanced preset management tools, visual control options, multi-camera direct control panel, camera automation features, and more.
With three editions with to choose from to fit your needs, our software was designed with precision, reliability, and functionality in mind.

Supports IP, VISCA, Canon, Pelco, CGI, and NDI Protocols
No matter what type of PTZ cameras you decide to use for your configuration, we have you covered. PTZ Camera Joystick Controller Software works with Sony, Panasonic, NewTek, Canon, Hitachi, Marshall, Vaddio, PTZOptics, Lumens, Datavideo, Huddlecam, AJA, Bolin, Aver, Logitech, Pelco and all other Broadcasting IP and VISCA PTZ cameras.
TriCaster, vMix, Livestream, Wirecast Integration
PTZ Camera Joystick Controller Software integrates seamlessly into TriCaster, vMix, Wirecast, Livestream and other live production systems and provides you with camera management tools and functionality that are significantly more extensive than those offered by the system's internal PTZ control settings.
Smooth and Precise PTZ Camera Control
Control your cameras with a virtual on-screen joystick that mimics a real joystick, keyboard hotkeys, button control, a laptop touchpad,  or trackball mouse.
PTZ Camera Joystick Controller Software also allows you to connect any wired USB joystick, wireless Bluetooth joystick, or gaming joystick to control your cameras. With simultaneous pan/tilt/zoom, 3 joystick performance modes, and custom button mapping, the result smooth and reliable camera control.
Efficient Preset Management Tools
Simplify the logistics of preset switching. With user friendly preset management tools and innovative visualization features, camera operators can easily organize all cameras and up to 510 internal and external presets to create an efficient workflow during a live broadcast or recording.
Precise control of Pan/Tilt/Zoom/Focus/Iris functions with variable speed
Use multiple USB Joysticks to control individual cameras simultaneously
Web Remote - Control from anywhere in the world using any device with a Web Browser
Iris, Shutter, Gain, White Balance, R-Gain, and B-Gain Monitoring and Adjustment
Visualets - Assign any image/graphic to a camera or preset for easy organization
Save and recall up to 510 internal and external camera presets
Visualize your environment with PTZLive™ Visual Preset Panel
On-Screen-Display (OSD) camera menu access
Timeline Task Manager - Create a list of camera commands to execute
Camera Tracer - Record camera movements for replay or loop
Task Scheduler - Schedule automated tasks for your cameras to complete
Camera Automation with PTZJoy Studio
Task Scheduler - Assign multiple cameras a task to complete at specified times or execute the same task at the same time.
TimeLine Task Scheduler - Create a timeline of tasks for your cameras to execute. Send commands to multiple cameras at once, loop the task list, or choose any action for you cameras to complete.
Camera Tracer - Record your joystick movements, save them, and then play them back.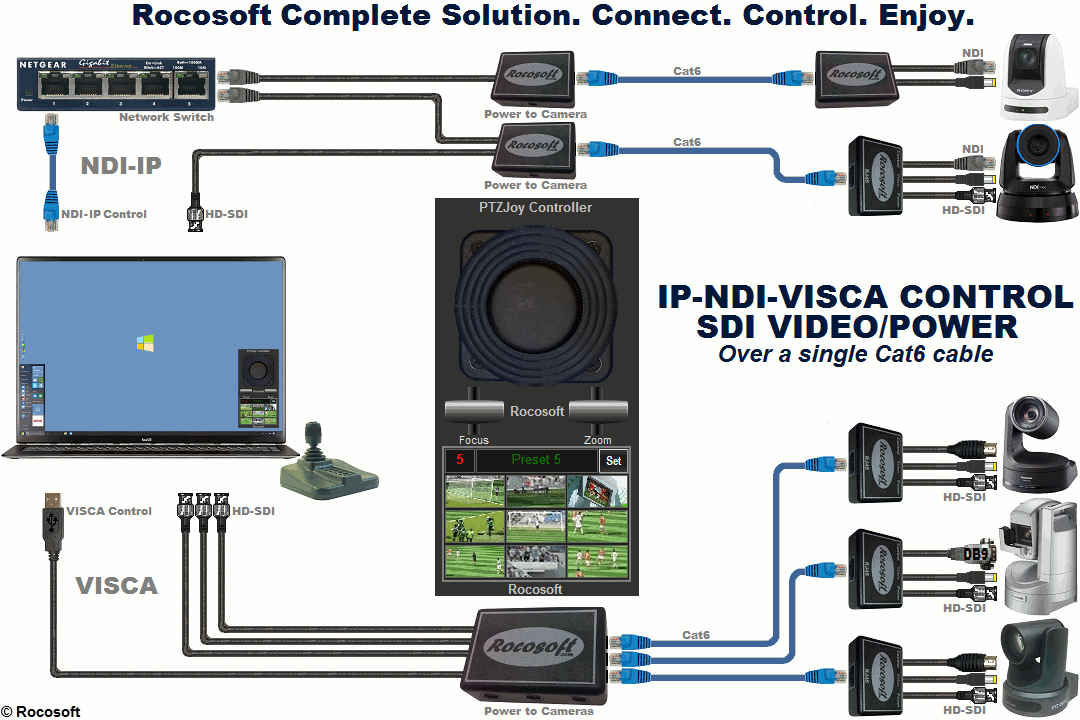 Pair PTZ Camera Joystick Controller with our PTZ Camera Control Cable Sets that connect remote PTZ cameras to a PC, NewTek TriCaster, Livestream, vMix, Wirecast, Telemetrics Control Panel, or Sony RM-BR300/IP10 Controller for a complete solution to connect and control your PTZ Cameras.
We specialize in extending VISCA control, HD-SDI video, composite video, and power signals over CAT network cables up to 1000ft and offer multiplexers and CAT extenders that take the guess work out of setting up your PTZ cameras.
PTZLive™ Visual Preset Control Panel 
Preset switching just got easier. PTZLive Visual Preset Control Panel enables you to SEE exactly where your camera presets are. 
Creates a visual camera preset layout for one click preset recall

Drag and Drop presets onto a static or live video background

Create preset layouts for multiple cameras

Perfect for working in complex video production environments
*Available in PRO and STUDIO Editions