Canon PTZ Controller Software – PTZJoy Pro
PRODUCT HIGHLIGHTS
Convenient on-screen controls for centralized multi-camera management

Works on PC, Laptop, Tablet, TriCaster, vMix, Wirecast, OBS, Livestream

Precise control of Pan/Tilt/Zoom/Focus/Iris functions with variable speed

Supports all Professional and Gaming USB Joysticks, including Xbox Controller

Customizable Preset Buttons – add your own graphics or custom labels  

PTZPad™ Mini Visual Preset Panel – a "bird's eye view" GUI for preset recall 

Far-End Camera Control using a USB joystick with our built-in API

Far-End Camera Control with any web browser

Macros to control vMix, TriCaster, Panasonic, Blackmagic Atem switchers along with PTZ Cameras

Control cameras with external programs using Macros and HTTP requests

Iris, Shutter, Gain, White Balance, R-Gain, and B-Gain Monitoring and Adjustment
Canon PTZ Controller Software
PTZJoy Controller for Canon PTZ Cameras is a professional multi-camera control system that allows a single operator to control multiple Canon XU Series, BU Series, NU Series, and CR Series PTZ cameras from any computer, tablet, laptop, TriCaster, vMix, Livestream, and other Live Production systems connected via RS-232, RS-422, USB ports, over IP directly or through Device Servers.
Replace your existing limited functionality controller with a more precise and powerful computer-based controller that works with any wired or wireless professional or gaming USB Joystick, has a precise virtual on-screen joystick, keyboard shortcuts, far-end camera control, OSD Menu access, advanced preset management, Macro Manager, PTZPad™ Mini Visual Preset Control Panel, Multi-Camera Direct Control Panel, camera automation tools, and more.
A precise and powerful computer-based controller that works with any wired or wireless professional or gaming USB Joystick, has an on-screen virtual joystick that mimics a real joystick, keyboard hotkeys, far-end camera control, video adjustment tools, OSD Menu access, and advanced visual preset management tools.
Precise control of Pan/Tilt/Zoom/Focus/Iris functions with any USB Joystick
Supports all Professional and Gaming USB Joysticks, including Xbox Controller
Connect up to 4 USB USB/Gaming joysticks and select which one to use
Assign commands or queues to any button on the joystick
Simultaneous Pan, Tilt, and Zoom Joystick Control with Variable Speed
3 Slow Joystick modes, Soft Start/Stop mode, X-Joystick mode
Control Cameras using keyboard hotkeys
Smooth Camera Control with on-screen Virtual Joystick
FarCam API - far-end camera control from anywhere with a USB joystick
Web Remote - Control from anywhere using any device with a web browser
Iris, Shutter, Gain, White Balance, R-Gain, and B-Gain Monitoring and Adjustment
Precise Pan, Tilt, Zoom, Focus Speed Monitor
Save and recall up to 32 camera presets
Control pan, tilt, and zoom speed during preset recall
9 Camera Preset Buttons with customizable thumbnail images
PTZPad Visual Preset Control Panel Mini - Visualize your environment with a bird's eye view GUI for preset recall
MacroSets Panel with 8 Macro Buttons to control vMix, TriCaster, Blackmagic Atem, and Panasonic switchers and PTZ Cameras
Camera Control from external programs using Macros and HTTP requests, such as StreamDeck or Companion
Tally Light, Mirror, Flip, Wiper, Camera On/Off, Focus Lock, and Backlight Function
Pan, Tilt, and Zoom Joystick direction flip option
Auto Pan and Preset Scan
Touch Screen Device Support
Start with Windows and Minimize to the Taskbar
Add more tools to PTZJoy Controller now.
Build even more power into your control system.
Add STUDIO Package to PTZJoy Pro

See More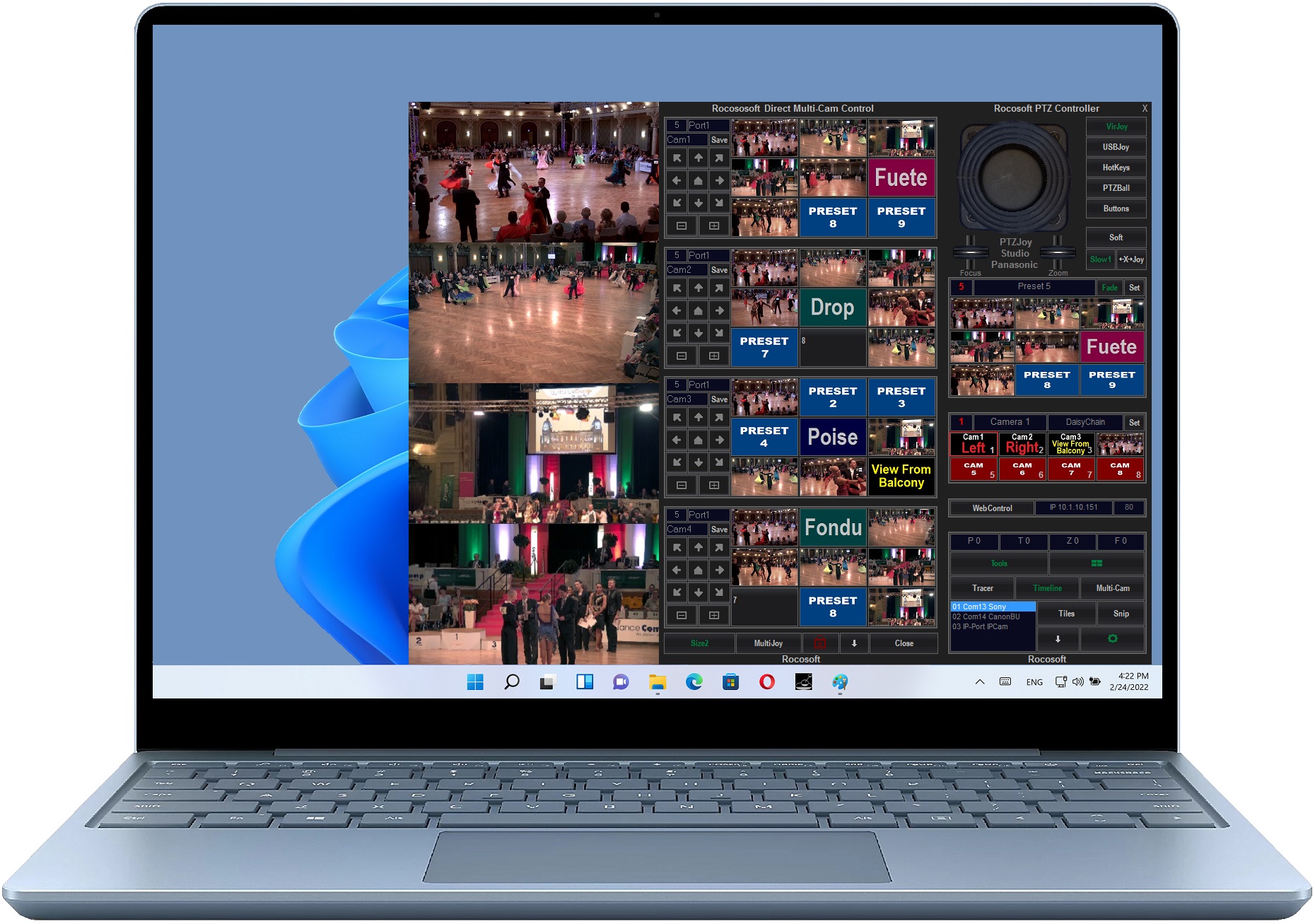 Add STUDIO Package to PTZJoy Pro
PTZJoy STUDIO Controller comes with everything in PTZJoy Pro plus:
Connect up to 4 USB Joysticks and control individual cameras with individual joysticks or use one joystick to control multiple cameras simultaneously
Set and recall up to 255 presets per camera with variable preset recall speed
Multi-Cam Direct Preset Recall Panel
Automation with Task Scheduler – Create a schedule for multiple PTZ cameras to execute specific commands at a certain time
Automation with Timeline Task Manager – Create complex playlists that send commands to multiple cameras on a timeline
Automation with Camera Tracer – Create recordings of PTZ Camera's movements to replay or loop later
90 Profiles - Save all program settings as profiles for specific scenarios that can be easily loaded for repetitive events
$800
Add CCU - Camera Control Unit

See More

The CCU Package
Add Canon Camera Control Unit (CCU) Panel to PTZJoy, PTZJoy Pro, or PTZJoy Studio Controller. 
Fine-tune advanced video settings of your Canon BU and Canon XU Series PTZ Cameras

$500
Precise Camera Control
The on-screen Virtual Joystick accurately recreates the movement produced by a real joystick controller, allowing for smooth control of pan, tilt, and zoom functions with variable speed. You can also use our convenient Directional Buttons to control pan, tilt, zoom, and focus.
Add Any USB Joystick
Create a professional PTZ camera control system with any widely available USB joystick or gaming controller, such as Xbox.
Configure joystick button actions right in the app and use the joystick performance modes to fine tune your control.
Easily Manage Cameras and Presets
Centralized management of multiple PTZ cameras and their presets. Easily switch between cameras and recall presets with the click of a button on the user interface or using the buttons on a connected joystick. Use our included labels for camera and preset button thumbnails or create your own custom graphic with the Snip tool.
API Support from External Apps / Devices
With our built-in API, users can integrate a variety of apps and programmable keyboards like Elgato StreamDeck or Xkeys to control PTZ Cameras and production equipment via HTTP Requests. Our API also allows for Far-end Camera Control with a USB joystick from anywhere with our new FarCam feature.
Rocosoft PTZJoy Controller Introduction
How to Control PTZ Cameras with PTZJoy
How to Set and Recall Presets with PTZJoy
Macro Manager - Controlling PTZ Camera and TriCaster w/ Macros
Macro Manager - Controlling PTZ Cameras and vMix with Macros
Control PTZ Cameras with an Xbox 360 Controller
PTZ Camera Control with Elgato Streamdeck and PTZJoy
---
Purchasing Rocosoft Canon PTZJoy Pro Controller Software
---
Rocosoft PTZJoy Pro Controller Software for Canon cameras works with all Canon Broadcasting PTZ cameras.
Once you purchase PTZJoy Pro Controller, you will receive an email with a download link and activation instructions. 
With extra add-ons to PTZJoy Pro Controller, you can choose the level of control that fits your needs to adjust to varying video production setups, camera operator preferences, and technical requirements. We offer upgrades from one product to the next for only the difference in price. If you need more tools down the road, you can simply upgrade to the next product up. 
We are here to support you! With over 20 years in this industry, we have thousands of satisfied customers worldwide and there are no questions in robotics control we can't answer. Support is available for as long as you own your Rocosoft product. Please don't hesitate to reach out to us for help with your order, help with installation, or help with using our product. Contact us here.
Manufacturer

Rocosoft

Media Type

PC Download – Software Installation and Activation Instructions sent via email along with User Manual.

Licensing

1 computer per license. Purchased software does not expire. License can be transferred to a different computer.

Supported PTZ Cameras

Canon XU Series, Canon BU Series, Canon NU Series, Canon CR Series
Canon XU-80, Canon XU-81, Canon BU-47, Canon BU-46, Canon CR-N300, Canon CR-X300, Canon CR-N500, Canon CR-X500, Canon CR-N700, and all newer Canon cameras

Operating Systems

Windows Vista, Windows 7, Windows 8, Windows 8.1, Windows 10, Windows 11, TriCaster Mini, TriCaster TC1, TriCaster 40, Tricaster 410, TriCaster 455, Tricaster 460, TriCaster 855, Tricaster 860, TriCaster 8000, TriCaster TCXD300, Livestream Studio HD31, Livestream Studio HD51, Livestream Studio HD510, Livestream Studio HD550, Livestream Studio HD1710, ALL vMix Editions, ALL Wirecast Editions

Purchasing Options

Canon Serial RS-232 RS-422 PTZJoy Pro Controller, Canon XC IP PTZJoy Pro Controller, Canon IP to Device Server PTZJoy Pro Controller

Supported Accessories

All USB, bluetooth, and gaming joysticks that can be recognized by Windows OS are supported for use with Rocosoft PTZ Camera Controller Software. Here are some examples of joysticks that are supported:

Logitech 3D PRO, Logitech Attack 3, CH Fighterstick USB Joystick, CH Combatstick, Thrustmaster USB Flightstick, Thrustmaster HOTAS WARTHOG, CH Products USB PTZ Joystick Controller, AXIS Controller, Ipega Controller, Xbox Controller, Xbox 360 Controller, PS3 Controllers, PS4 Controllers.

Supported Programmable Controllers: Elgato Stream Deck Mini, Elgato Stream Deck, Elgato Stream Deck XL, Elgato Stream Deck +, X-keys – 128 Key, 24 Key, 60 Key, 80 Key, and all others.