IP PTZ Controller Software – PTZJoy Pro
PRODUCT HIGHLIGHTS
Convenient on-screen controls for centralized multi-camera management

Works on PC, Laptop, Tablet, TriCaster, vMix, Wirecast, OBS, Livestream

Control 6 remote IP PTZ Cameras 

Precise control of Pan/Tilt/Zoom/Focus/Iris functions with variable speed

Supports all Professional and Gaming USB Joysticks, including Xbox Controller

Set and Recall 32 Internal and 32 External presets and control preset recall speed

Customizable Preset Buttons – add your own graphics or custom labels  

PTZPad™ Mini Visual Preset Panel – a "bird's eye view" GUI for preset recall 

Multi-Cam Direct Control – simultaneously manage multiple cameras in one, simplified view

Far-End Camera Control using a USB joystick with our built-in API

Far-End Camera Control with any web browser

Macros to control vMix, TriCaster, and Panasonic switchers and PTZ Cameras

Control cameras with external programs using Macros and HTTP requests

On-Screen-Display (OSD) camera menu access

Iris, Shutter, Gain, White Balance, R-Gain, and B-Gain Monitoring and Adjustment
PTZJoy PRO - IP PTZ Joystick Controller Software
PTZJoy PRO - IP PTZ Joystick Controller Software is a professional PTZ camera management solution that allows you to control IP PTZ cameras from any computer, tablet, laptop, TriCaster, vMix, Livestream, and other Live Production systems.
A precise and powerful computer-based controller that works with any wired or wireless professional or gaming USB Joystick, has a virtual on-screen joystick that mimics a real joystick, keyboard shortcuts, far-end camera control, OSD Menu access, advanced preset management, Macro Manager, PTZPad™ Visual Preset Control Panel, Multi-Camera Direct Control Panel, and more.
PTZJoy PRO supports a variety of camera models and manufacturers and you can simultaneously control multiple brands such as Sony, Panasonic, Canon, NewTek, Hitachi, Marshall, JVC, iSmart, Birddog, Minrray, PTZOptics, Lumens, Datavideo, Huddlecam, Bolin, Aver, Telycam, Angekis, Flyan, Clevermic, Nova, Value HD, Avonic, QSC, SMTAV, and all other Broadcasting IP protocol PTZ cameras.
Control up to 6 remote IP PTZ Cameras
Precise control of Pan/Tilt/Zoom/Focus/Iris functions with any USB Joystick
Supports all Professional and Gaming USB Joysticks, including Xbox Controller
Connect up to 4 USB Joysticks
Assign commands to any button, lever, or directional pad on USB/Gaming Joystick
Simultaneous Pan, Tilt, and Zoom Joystick Control with Variable Speed
3 Slow Joystick Modes, X-Joystick Mode, Soft Joystick Mode
Control Cameras using keyboard hotkeys
Smooth Camera Control with on-screen Virtual Joystick
FarCam API - far-end camera control from anywhere a USB Joystick
Web Remote - Control from anywhere in the world using any device with a Web Browser
Iris, Shutter, Gain, White Balance, R-Gain, and B-Gain Monitoring and Adjustment
Precise Pan, Tilt, Zoom, Focus Speed Monitor
Save and recall up to 32 Internal and 32 External camera presets
Control pan, tilt, and zoom speed during preset recall
9 Camera Preset Buttons with customizable thumbnail images
PTZPad Visual Preset Control Panel Mini - Visualize your environment with a bird's eye view GUI for preset recall
Multi-Camera Direct Preset Panel – simultaneously control multiple cameras and their presets in one, simplified view
MacroSets Panel with 8 Macro Buttons to control vMix, TriCaster, and Panasonic switchers and PTZ Cameras
Camera Control from external programs using Macros and HTTP requests, such as StreamDeck or Companion
Tally Light, Mirror, Flip, Wiper, Camera On/Off, Focus Lock, and Backlight Function
Pan, Tilt, and Zoom Joystick direction flip option
Auto Pan and Preset Scan
Touch Screen Device Support
Start with Windows and Minimize to the Taskbar
Rocosoft PTZJoy Controller Introduction
How to Control PTZ Cameras with PTZJoy
How to Set and Recall Presets with PTZJoy
Macro Manager - Controlling PTZ Camera and TriCaster w/ Macros
Macro Manager - Controlling PTZ Cameras and vMix with Macros
Control PTZ Cameras with an Xbox 360 Controller
PTZ Camera Control with Elgato Streamdeck and PTZJoy
---
Purchasing PTZJoy - IP PTZ Joystick Controller Software
---
PTZJoy PRO - IP PTZ Camera Controller works with all Broadcasting IP PTZ cameras and can control different IP camera brands. 
Once you purchase PTZJoy PRO, you will receive an email with a download link and activation instructions. 
With 3 versions of our PTZ Camera Controller Software, you can choose the level of control that fits your needs. Each version includes core features that are integrated across all three versions, but have different feature sets tiered to varying video production setups, camera operator preferences, and technical requirements. Each version builds on the previous one, adding more features, tools, and functionality as you go. We offer upgrades from one product to the next for only the difference in price. If your camera control needs change or you need more tools down the road, you can simply upgrade to the next product up.
We are here to support you! With over 20 years in this industry, we have thousands of satisfied customers worldwide and there are no questions in robotics control we can't answer. Support is available for as long as you own your Rocosoft product. Please don't hesitate to reach out to us for help with your order, help with installation, or help with using our product. Contact us here.
Find the perfect level of control for YOUR setup
100% Satisfaction Guaranteed + Lifetime Support
| | |
| --- | --- |
| Manufacturer | Rocosoft Inc. |
| Media Type | PC Download – Software Installation and Activation Instructions sent via email along with User Manual. |
| Licensing | 1 computer per license. Purchased software does not expire. License can be transferred to a different computer. |
Need a solution to connect your PTZ Cameras?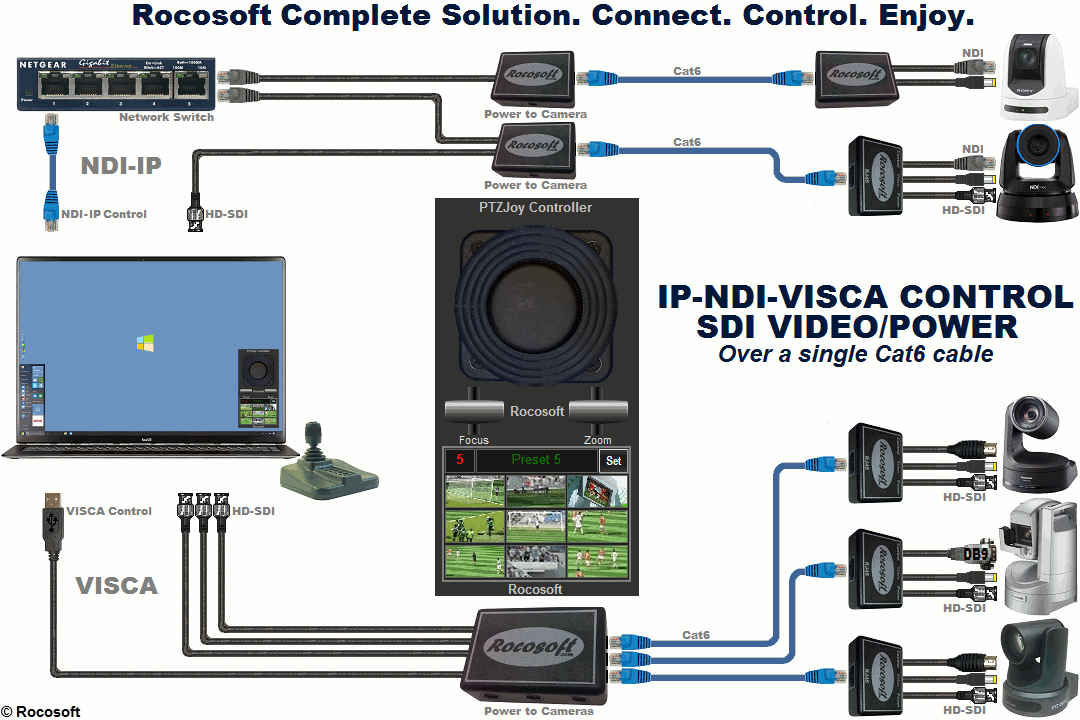 Simplify your setup and pair our PTZJoy PTZ Camera Controller Software with our PTZ Camera Control Cable Sets that connect remote PTZ cameras to a PC, NewTek TriCaster, Livestream, vMix, Wirecast, Telemetrics Control Panel, or Sony RM-BR300/IP10 Controller for a complete solution to connect and control your PTZ Cameras.
We specialize in extending VISCA control, HD-SDI video, composite video, and power signals over CAT network cables up to 1000ft and offer multiplexers and CAT extenders that take the guess work out of setting up your PTZ cameras.