Use any USB Joystick to precisely control your cameras

Use PTZPad with PTZLayer to Visualize your setup

Control using a TrackPad or TrackBall as a Joystick

Control the speed of preset recall

Control Cameras from anywhere using any device with a Web Browser

Schedule timed tasks for your cameras to complete using our Task Scheduler

Control from other apps and keyboards using macros and HTTP requests

Works on PC, Laptop, Tablet, TriCaster, vMix, Wirecast, OBS, Livestream
Sony VISCA over IP
Sony CGI IP
Panasonic CGI IP
PTZOptics VoIP-VISCA over IP
Datavideo VoIP-VISCA over IP
PTZJoy IP Controller Software Editions
PTZJoy Pro IP Camera Control Software
Precisely control any PTZ IP broadcasting camera.
PTZJoy Pro Software will allow you to add a professional quality joystick controller to your system by using any USB Joystick. You will have simultaneous Pan-Tilt-Zoom control with no latency and the ability to program the joystick buttons to your liking - switch between cameras, call on presets, control Iris, Focus, and do tons of other things. You will be able to use one of four joysticks, connected to the computer as well as to have four profiles with your own button mapping scenarios per joystick.
You can also use the on-screen Virtual Joystick, directional control buttons with a speed slider, Keyboard shortcuts, or use a Mouse, Trackpad or TrackBall as a joystick.
You can control your cameras from anywhere with any device that has a Web Browser. It's extremely useful when controlling IP cameras that are connected to an internal LAN network. PTZJoy becomes a gateway so the cameras can be controlled over LAN, WI-FI, or WAN with no individual IP addresses needed. They will be just Cam1, Cam2, Cam3, etc. on the controlling device.
Along with using internal camera presets, we also store camera settings externally in the software. The External camera presets can be called with variable speed so, you can select how fast the camera will move between preset positions.
The Preset Visualets - Visual Preset Tiles are fully customizable so you can name your presets as you want and use your own graphics or images as background. The Snip button gives you an easy way to cut an area off the screen to save images for the Tiles.
Camera switching is also easy and straight forward since each camera is represented by a Tile that can be customized with your graphics or an image.
PTZPad is a Visual Preset Control Panel that is designed to simplify the logistics of preset switching. PTZPad allows you to create a visual camera preset layout for one-click preset recall. It gives you immediate visual access to your camera positions and preset locations so you can SEE exactly what position each camera is going to, instead of having to remember presets by number or name. You can replace the background of the Panel for each camera or use the PTZLayer feature to make the panel see-through, so the PTZPad window can be layered on top of any live video streaming window, like VLC Player or NDI Monitor to achieve Live Video background.
You can adjust the camera Exposure settings like Iris, Shutter, Gain, White Balance, Backlight, or access the Camera OSD Menu for a more detailed setup.
Camera management can be automated with AutoPan, PresetScan and Task Scheduler.
AutoPan will allow you to move a specific camera left and right on a cycle with a given interval and desired speed.
PresetScan will allow you to move a specific camera between presets on a given interval.
Task Scheduler will allow you to schedule tasks for your cameras to complete at a defined time.
The included API tool will allow other Live Production or Switching Systems to access PTZ Camera control by sending HTTP Requests to PTZJoy over IP.
HotKeys keyboard shortcuts can be used with Macros and programmable keyboards (like X-Keys or Genovation) for controlling cameras with macro commands based on the keybord ASCII codes.
You can start PTZJoy with Windows as well as run it in the background with features like USB Joystick support so the Joystick control is instantly available when you start your computer or production system.
If installed on a TriCaster system, PTZJoy can be loaded along with TriCaster Software when TriCaster Starts.
Precise Camera Control
With PTZJoy, you are able to easily and precisely control your PTZ camera's pan, tilt, and zoom with variable speeds. Controlling cameras with PTZJoy is extremely fluid and responsive, regardless of how you choose to control cameras. Our on-screen Virtual Joystick accurately recreates the movement produced by a real joystick controller, providing smooth camera control all around.
Add Joystick Control to Anything
With PTZJoy, you can use ANY USB joystick to control your cameras with Variable speed. Our USB Joystick control is smooth and reliable.
Not only that, but you can also configure every single button on your USB Joystick to do a large host of tasks with your IP cameras.
Easily Manage Presets
PTZJoy makes preset management much simpler for the user by adding a visual component to preset management. Each preset can be assigned a picture, which can then be easily recalled with a single click. Preset setting and recalling is a very quick, one-click process, and the speed at which the camera moves when a preset is called can be controlled.
Multi-Camera Management
With PTZJoy, you can seamlessly manage multiple cameras, each with its own set of presets and settings. Switching between cameras is a simple one-click process. Not only that, but you can also mix and match IP camera brands. For example, Cam1 can be Panasonic, Cam2 - Sony, Cam3 - PTZOptics, Cam4 - Datavideo but PTZJoy will provide seamless on-the-fly switching between them.
Precise control of Pan/Tilt/Zoom/Focus/Iris functions with any USB Joystick

Supports USB Joysticks and Joystick Controllers

Easily customize USB Joystick Buttons to your liking

Simultaneous Pan, Tilt, and Zoom Joystick Control with Variable Speed

Use one of up to 4 USB Joysticks with up to 30 programmable buttons connected to the system simultaneously

Smooth Camera Control with on-screen Virtual Joystick

Convenient Pan/Tilt/Zoom/Iris Control with Directional Buttons

Turn any Mouse, Trackpad or TrackBall into a Joystick with PTZBall

Visualize your environment with PTZPad Mini, the drag-and-drop overlay

Control using keyboard hotkeys

Control from anywhere in the world using any device with a Web Browser

Control from external programs using macros and HTTP requests

Control 6 IP cameras from one computer

Save and recall 255 Internal and 32 External camera presets

Control the speed of preset recall

18 Visual Preset Tiles for Internal and External Camera Presets

Customize Preset Tiles with your own graphics or images

Snipping tool to crop images off the screen to use them as back-ground for Tiles

Iris, Shutter, Gain, White Balance, and Backlight Adjustment

On-Screen-Display (OSD) camera menu access for fine exposure settings control

Automatically pan left/right with AutoPan

Automatically loop through presets using PresetScan

3 Slow Joystick Modes, X-Joystick Mode, Soft Joystick Mode

Precise Pan, Tilt, Zoom, Focus Speed Monitor

Camera On/Off, Tally Light, Mirror, Flip, and Wiper Switching Functions

Start with Windows

Minimize to the Taskbar
Web Remote
PTZJoy Pro includes our Web Remote, which allows you to control your cameras over the internet with no latency anywhere in the world, from any device that has a browser. This is particularly useful for when you need to manage your cameras on the go.
The Web Remote offers all of the core PTZ control tools of PTZJoy. That is, you can control the Pan-Tilt-Zoom, call presets, and switch between cameras.
Connecting to the Web Remote is as simple as entering the computer's URL into a browser.
Automation with PTZJoy Pro IP
With PTZJoy Pro, you are able to automate your cameras using some of our powerful automation tools.
With AutoPan, you can set your cameras to automatically pan left and right on a given interval. All you need to do is activate it, and your camera will begin panning. You can change the interval (seconds) on which your camera moves.
As with AutoPan, PresetScan automatically calls each of your camera's presets on a given interval. So, every x amount of seconds, PTZJoy will call your camera's next preset.
On top of those two, you can also schedule timed tasks for your cameras to complete using our Task Scheduler. Multiple cameras can be given a task to complete at specified times, or they can all do the same task at the same time.
More Control Over Your Cameras
PTZJoy Pro offers more fine control over camera settings.
A camera's On Screen Display (OSD) menu can be accessed and controlled via PTZJoy. From there, you can edit any option that the camera lets you edit. Iris, exposure, white balance, etc. Alternatively, you can control those options from within PTZJoy itself.
PTZJoy Pro also offers a Pan-Tilt-Zoom speed monitor, that shows you the exact speed of your Joystick.
Visualize Your Setup with PTZPad
PTZJoy Studio includes the basic version of PTZPad, our powerful software extension that adds a visual component to your setup.
The idea of PTZPad is to give you a visual representation of your cameras and their presets. In PTZPad, you can drag-and-drop presets onto a static or live background, and you can do this for multiple cameras. Each camera has its own preset, and each preset draws a line to the camera.
For example, you can set the background image to an image of a church. Drag-and-drop your Camera 1 to the top of the church where the camera is actually located. Then, drag-and-drop each preset its respective location. If Preset 1 is set to zoom in on the choir, drag-and-drop the Preset 1 box onto the choir location. Now, repeat this process for your Camera 2, which is located behind the audience.
Once it's time for you to start managing your cameras, you can pull up PTZPad and simply click on the location you want your camera to go to. It's as simple as that!
Now imagine doing those steps over a live background, say of a concert. You can dynamically move the preset buttons around as you need it.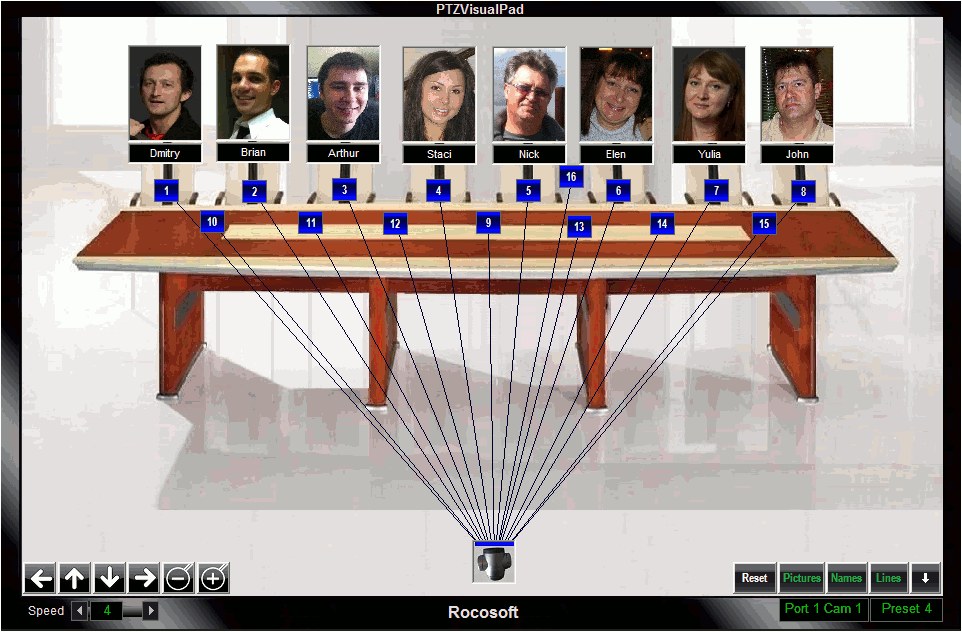 Manufacturer

Rocosoft Inc.

Media Type

PC Download – Software Installation and Activation Instructions and User Manual sent via email

Licensing

1 computer per license. Purchased software does not expire

Operating Systems

Windows Vista, Windows 7, Windows 8, Windows 8.1, and Windows 10

Supported IP Port Cameras

Sony VISCA over IP on UDP Port 52381:
Sony: BRC-X1000, SRG-120, SRG-300, SRG-360, all other Sony Cameras with IP Extension Module
Sony IPELA: All Sony IPELA IP PTZ Cameras (CGI IP Protocol)
NewTek: NDI NDIHX-PTZ1
Lumens: All Lumens IP PTZ Cameras
iSmart: All iSmart IP cameras

Panasonic CGI IP Protocol:
Panasonic: AW-HE2, AW-HE40, AW-HE50, AW-HE60, AW-HE120, AW-HE130, AW-UE70, AW-HR140, AW-HE65,
AW-HE38, AW-HE58, AW-HE35, AW-HE48

PTZOptics VoIP-VISCA over IP Protocol on UDP Port 1259:
PTZOptics: 12X-IP, 12X-USB, 20X-IP, 20X-USB, 12X-SDI-G2, 12X-USB-G2, 20X-SDI-G2, 20X-USB-G2

Datavideo VoIP-VISCA over IP Protocol on TCP Port 5002:
Datavideo: PTC-100, PTC-120, PTC-150 and all newer Datavideo IP cameras
Purchase PTZJoy Pro Controller Software
PTZJoy Pro Controller is universal - it works with all IP cameras with the ability to mix and match different camera brands and protocols. This means that you can have Camera 1 set to be Panasonic IP, Camera 2 to Sony IP, Camera 3 to PTZOptics IP, Camera 4 to Datavideo IP, etc. and in any other order you would like.

However, we offer a single-protocol version of our software at a discounted price for those that control cameras over a single protocol.
Supported Cameras by Protocol
Sony VISCA over IP: all Sony, Sony IPELA, NewTek, Lumens, JVC, and iSmart IP Cameras
Panasonic CGI over IP: all Panasonic IP Cameras
PTZOptics VISCA over IP: all PTZOptics IP Cameras
Datavideo VISCA over IP: all Datavideo IP Cameras
Supported Cameras by Brand