Connecting IP Cameras to your Computer
Make sure they are connected to the network and discoverable. In the PTZJoy application, click Camera 1 button, type in the IP Address of your camera in the Camera Window, and click Set. This camera is now set up as Camera 1 and is available to control. Repeat these steps for additional cameras.
Connecting Serial VISCA PTZ Cameras to your Computer using a USB to VISCA Adapter
Before starting PTZJoy, you must connect your PTZ camera to your computer using a USB to VISCA Control cable. Please make sure your PTZ camera is turned On. Connect the USB to VISCA control cable adapter to the USB COM port of your computer and to the VISCA In jack of your camera.
Check which COM port number is being used by your serial device in the Ports section of the Device Manager* on your computer (example: COM3)**.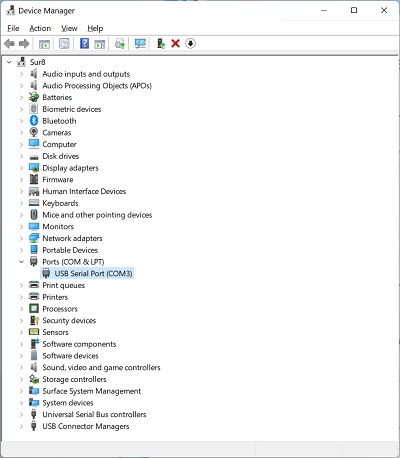 Open PTZJoy Controller. You will now see a list of available COM ports in the COM Port section. Switch to the port that your camera is connected to and start controlling it. If you have daisy-chained cameras, you will be able to switch between them with the camera buttons in the camera section of PTZJoy. The active camera will have a colored border.
*To access the Device Manager, right-click on the Windows logo in the taskbar (Win10 and Win11) and click on Device Manager. Expand the Ports section to view your active COM ports and double-check that there are no yellow exclamation marks. If you see a yellow exclamation mark next to any of your COM ports, you will need to fix this issue. If there are no yellow exclamation marks, these ports are active and available to control cameras.
** If you are connecting only one camera, or multiple cameras in a daisy chain mode, you will need to know only one COM port number. If you have multiple cameras connected to multiple ports, you will need to know the COM port numbers being used in order to switch between cameras in the PTZJoy.
Need to Control Your IP or VISCA PTZ Cameras? 
Check out our line of professional PTZ Camera Controller Software products for IP or Serial port VISCA PTZ Cameras.
IP PTZ Camera Controller Software
VISCA PTZ Camera Controller Software
Need a USB to VISCA Control Cable? We also make PTZ Gear.
Check out our selection of Serial RS-232, Serial RS-422, and Serial RS-485 to USB Control Cable sets for both single and multi-camera configurations: