The Preset Scan feature allows you to command a selected camera to scan between presets at a specified time interval. Presets must already be configured.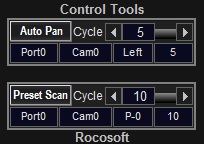 How to Set Up Preset Scan:
Click the "Preset Scan" button to start the scan cycle. Adjust the time interval between the presets with the Cycle Slider. Click it again to stop Preset Scan.
Need to Control Your IP or VISCA PTZ Cameras? 
Check out our line of professional PTZ Camera Controller Software products for IP or Serial port VISCA PTZ Cameras.
Need a USB to VISCA Control Cable? We also make PTZ Gear.
Check out our selection of Serial RS-232, Serial RS-422, and Serial RS-485 to USB Control Cable sets for both single and multi-camera configurations: