Professional Sony PTZ Camera Controller Products
Rocosoft Sony PTZ Camera Controller line of products offer professional camera management software and hardware solutions connect and control remote Sony PTZ Cameras via IP or Serial RS-232 or RS-422 from a computer, tablet, TriCaster, vMix, Livestream, Wirecast, OBS, and other Live Production Systems. Our Sony PTZ Camera Controller software, joystick controllers, and USB-to-VISCA control, video, and power extendable cables allow you to build your own professional PTZ camera control system at a fraction of the cost of other options out there, but with superior quality, simplicity, and unparalleled functionality.
Supported Sony PTZ Cameras: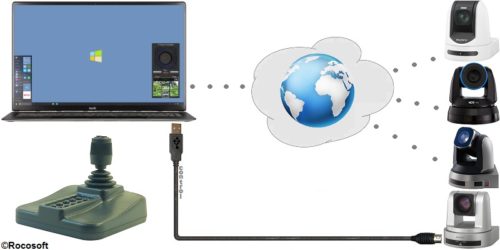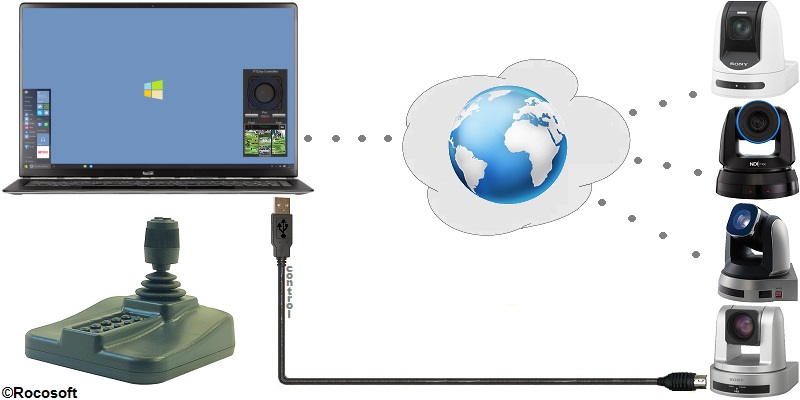 BRC-X1000
BRC-H900
BRC-H800
BRC-X400
BRC-300
BRC-H300
BRC-H700
BRC-Z700
BRC-Z330
SRG-X400
SRG-300H
SRG-X120
SRG-X120DS
SRG-X120DH
SRG-X120DU
SRG-360SHE
SRG-300SE
SNC-RZ30
EVI-H100S
EVI-H100S/W
EVI-H100V
EVI-H100V/W
EVI-HD1
EVI-HD3V
EVI-HD7
EVI-DHD7V
PCS-HG90
PCSA-CHG90
EVI-D30
EVI-D31
EVI-D70
EVI-D80
EVI-D90
EVI-D100
EVI-D100P
EVI-D20G
Professional Solutions for Sony PTZ Camera Control:
Sony PTZ Camera Controller Software
Sony PTZLive Visual Preset Control Panel
Sony USB to VISCA RS-232/RS-422 Control Cables
CONNECT
Our USB-to-VISCA cable sets are a simple way to connect remote Sony cameras to a PC, TriCaster, vMix, or other live-production system. We specialize in extending HD-SDI, component and composite video, RS-232 and RS-422 VISCA control, and power signals over standard CAT network cables for single and multiple camera configurations.
Our USB to Serial VISCA RS-232 VISCA Extendable Control Cable can be extended up to 1000ft with a standard CAT5-6 network cable. Our USB to Serial RS-422 Control Cable will give you 4000ft extension with a standard network cable.
Connecting multiple Panasonic cameras? Make it simple – Set up multiple remote cameras using one convenient extendable cable set that connects your cameras to your computer or live production system and transmits VISCA Control, Video, and Power signals over a single CAT cable to each camera.
Whether your setup is simple or complex, we take the guess work out of it –no need for converters, USB adapters, or separate cable runs – all you need is one of our convenient cable sets.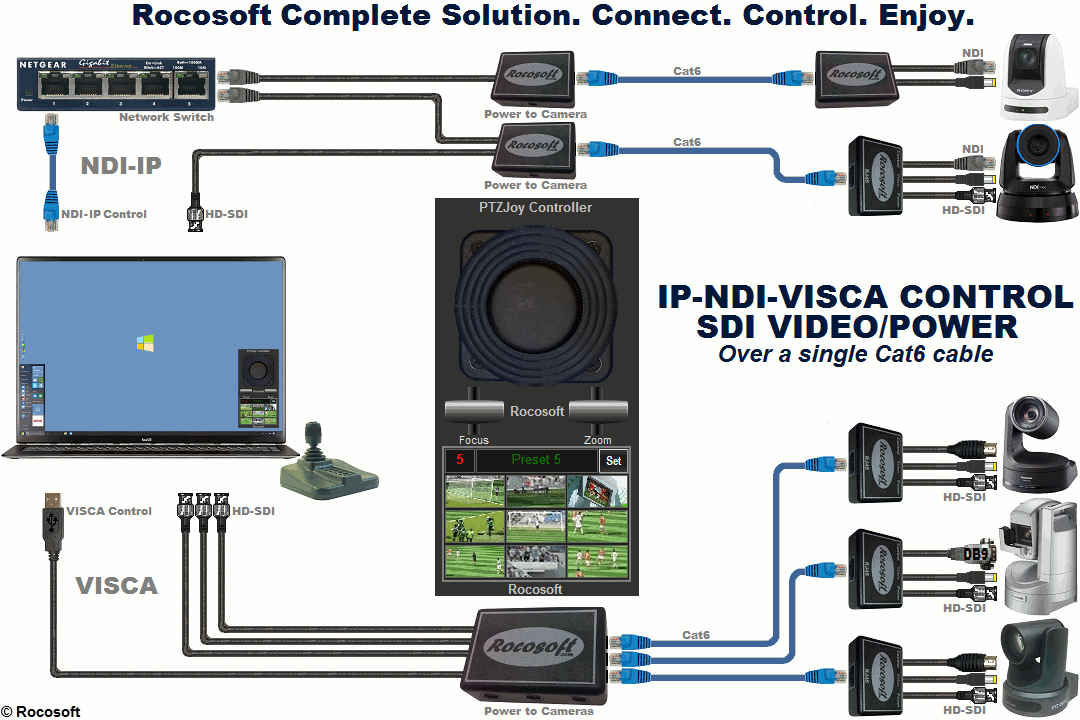 CONTROL
Rocosoft Sony PTZ Camera Controller line of products offer professional camera management software solutions for remote control of Sony PTZ cameras from a computer, tablet, TriCaster, vMix, Livestream, Wirecast, and other Live Production Systems. Designed to be used with the industry's top live streaming solutions and professional Sony robotic cameras, our software offers the best camera control technology available in the industry and functionality that you just can't get with any other software product or hardware controller on the market.
Our computer-based PTZ camera controllers give camera operators advanced tools to do more with less and streamline their live production setup. Manage multiple Sony PTZ cameras with precise virtual on-screen joystick and controls, any professional USB or gaming joystick, and offer advanced features such as far-end camera control, multi-joystick support, OSD Camera Access, Macro Manager, advanced preset management tools, visual control options, Multi-Camera Direct Control Panel, PTZLive Visual Preset Control Panel, camera automation tools like Camera Tracer and Timeline Task Manager, integration with third party programmable key boards like Stream Deck and XKeys, and more.
ENJOY
Together or separate, our software and hardware solutions make it easy to PTZ. Need help with your setup? Not sure what you need to get up and running? Interested in learning more info about our PTZ Camera Controllers and USB to VISCA camera cables and connectors? Let our solutions experts help! Use the links below to contact us directly or request a demo of our PTZ camera controller software. We look forward to speaking with you!