How to Control PTZ Cameras with an Xbox 360 Controller
Turn an Xbox 360 gaming controller into a precise PTZ Camera Joystick Controller. Rocosoft PTZJoy PTZ Camera Controller software allows you to connect an Xbox 360 controller to your computer or live production system and use it to control your PTZ Cameras. Easily assign each button and lever on the Xbox 360 controller to execute specific commands and control your PTZ cameras. Pan, Tilt, Zoom, call presets, switch cameras, run macros, and more.
Customize Each Button or Lever Any Way You Like
PTZJoy PTZ Camera Controller has a Joystick Button Setup panel where you can select each button's command from the drop down menu. Here's an example of a button mapping setup to control PTZ Cameras with an Xbox 360 Controller: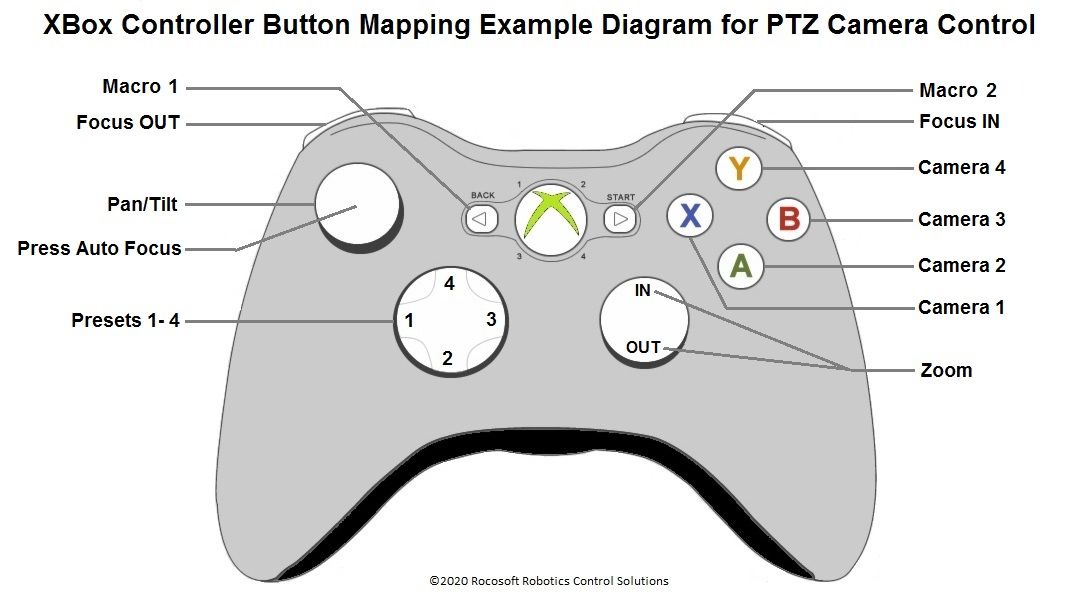 COMMAND LIST FOR BUTTON MAPPING
You can configure your joystick buttons to execute the following commands:
Zoom In
Zoom Out
Preset 1-16
Camera 1-6
Port 1-6
Focus Far
Focus Near
Focus Auto
Focus Manual
Iris Up
Iris Down
Iris Auto
Iris Multi+
Iris Multi-
Camera Up
Camera Down
Preset Up
Preset Down
Preset Set
Preset Call
Port Up
Port Down
Internal Preset
External Preset
Macros
Joystick Performance Modes
PTZJoy Controller also has 3 joystick performance modes that can be activated in the software while using an Xbox 360 Controller to control PTZ Cameras.
SLOW JOYSTICK MODE
This mode allows for slower, more precise movements of the camera. Click on the Slow Mode button to switch to Slow Joystick Mode. There are three Slow modes available that you can cycle through.
SOFT JOYSTICK MODE
This mode allows for gradual speed acceleration of the camera. Click on the Soft Mode button to switch to Soft Joystick Mode.
PAN-ONLY JOYSTICK MODE
This mode limits camera movements to pan only on the X-axis. Click on the PanOnly button to switch to Pan Only Joystick Mode.
---
Detailed instructions on how to program buttons on a USB Joystick or Gaming Controller and list of available commands:
Need to Control Your IP or VISCA PTZ Cameras? 
Check out our line of professional PTZ Camera Controller Software products for IP or Serial port VISCA PTZ Cameras.
Need a USB to VISCA Control Cable? We also make PTZ Gear.
Check out our selection of Serial RS-232, Serial RS-422, and Serial RS-485 to USB Control Cable sets for both single and multi-camera configurations: